For the past three years, aviation and defense giant Boeing (NYSE:) has been on a long road to recovery after taking a severe blow to its credibility. The company's latest , released Wednesday, show that there are still many hurdles in the U.S. industrial giant's way before it can claim to have overcome its problems.
Despite being buoyed by demand for its 737 MAX and cargo planes, Boeing told investors during its earnings call that it suffered a quarterly loss, mainly due to 787 Dreamliner production issues. And the news came despite Boeing having sold more jets than rival Airbus Group (PA:) (OTC:) this year
The company's adjusted loss of $0.60 a share and revenue of $15.3 billion both missed the averages estimates. Though the Chicago-based aircraft maker burned through much less cash than what Wall Street had expected, the figure got a big boost from a $1.3-billion tax refund during the quarter.
The biggest drag on the results came from a $185-million accounting charge for the latest delay to the Starliner spacecraft and $183 million in costs from disrupted production of the 787 Dreamliner. The plane-maker anticipates spending about $1 billion in total for troubles with the marquee wide-body jet.
Boeing Chief Executive Officer David Calhoun said in a statement:
"We are driving stability across our operations. Commercial market demand continues to gain traction with broad-based vaccine distribution and border protocols beginning to open. Going forward, supply chain capacity and global trade will be key drivers of our industry and the broader economy's recovery."
Investors, however, are not yet convinced that the company will soon overcome its troubles, which started after the two deadly crashes of its flagship 737 MAX planes within the span of six months.
BA Stock Continues To Underperform
Despite a strong rebound from the market collapse in March 2020, BA shares are down 4% this year, massively underperforming the , which has surged about 16% during this period. Closing yesterday at $207.79, BA is still more than 50% lower than the all-time high it reached in early 2019.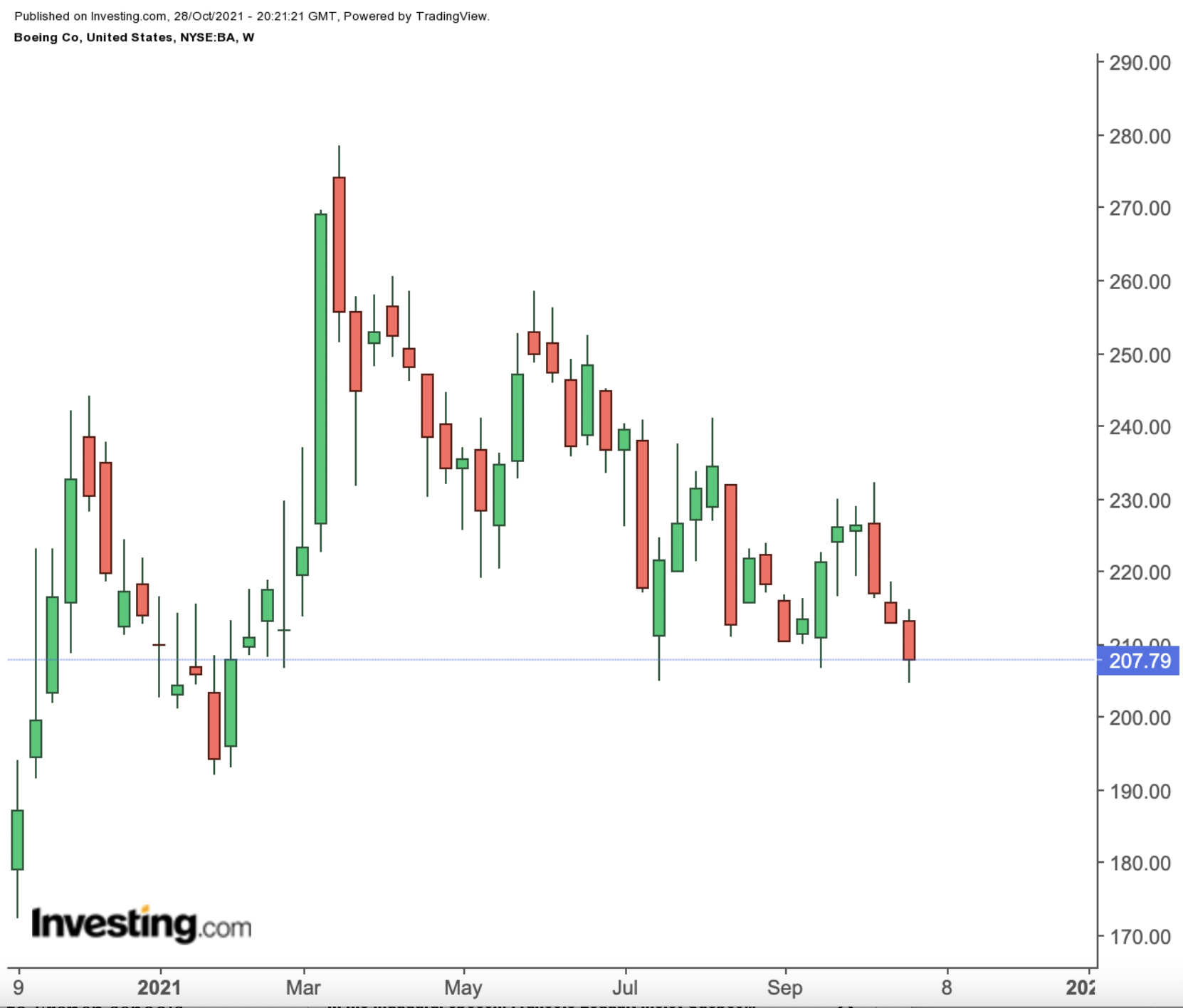 China remains one of the biggest risks to Boeing's recovery efforts. Souring U.S.-China trade relations have restricted sales in the world's largest growth market for jets, with no new orders since 2017. As well, China hasn't yet lifted a ban on the MAX 737, keeping people guessing about its intentions.
In its latest analysis Bloomberg said:
"China still hasn't signed off on the return of Boeing Co.'s 737 Max. But the plane-maker isn't backing off its target for an aggressive step-up in production starting in early 2022. Does the company know something the rest of us don't, or is it just foolhardy?"
Boeing reiterated Wednesday it plans to start churning out 31 MAX jets a month by early 2022, up from a pace of 19 now. The company has about 370 MAX planes in inventory and said the "vast majority" have owners and if its projections for China deliveries hold up, it will deliver most of them by the end of 2023.
After the earnings, Goldman Sachs reiterated its call to buy Boeing stock. In a note to clients it said:
"We think there is a relatively high probability that in the next few months Boeing sees: (1) FAA approval to resume 787 deliveries, (2) China 737 MAX regulatory approval, (3) an international and business travel acceleration. These catalysts should allow the market to look out to normalized earnings and cash flow power, and remove overhangs that investors regularly tell us they need out of the way before they will buy the stock."
Bottom Line
BA's latest earnings report showed that the company is gradually improving its financial position and it's in a better position than it was two years ago. That said, its stock remains a long-term turnaround bet for those who have the patience, especially when China remains a big question mark and the recovery in international travel is still weak.