Futures jump over 1% despite a potentially contested US election outcome
New COVID-19 infection records set as European lockdowns begin
Positive economic data from China and South Korea
Key Financials
US futures, including for the , , and , and European stocks rose on Monday but were volatile ahead of Tuesday's US presidential election and the Federal Reserve on Thursday. Asian markets closed higher as factory activity rose more than expected in China and South Korea providing more signs of recovery there.
Oil fell below $35 as hopes for a demand rebound evaporate, causing the energy commodity to complete a pattern, eyeing another $10 drop.
Global Financial Affairs
Concern that an uncertain result in the —and indeed the possibility there may not be a timely decisive outcome as President Donald Trump is already preparing to contest a loss— combined with the continued spread of the worst global pandemic in a hundred years is expected to lead to over the coming days.
The US now holds the dubious title of becoming the first country to record 100,000 new daily cases and at least 31 states hit new records in October, with 9,475,788 known cases across the county. America's top infectious disease expert, Dr. Anthony Fauci, suggested there is "a whole lot of hurt" ahead which led President Trump to suggest he may fire Fauci, exacerbating uncertainty and instability.
Global deaths surpassed 1.2 million, with last week being the deadliest since April. The news that WHO chief, Tedros Adhanom Ghebreyesus is in quarantine is adding a psychological sense of lack of control.
In Europe, Germany and France are in new lockdowns, with Spain is in regional lockdown until Nov. 9. Southern Italy is headed towards increased restrictions and in the UK a cabinet minister said on Monday that the just-announced lockdown there may be extended beyond the Dec. 2 target.
The European Index was up over 1.4% in trading ahead of Monday's US open, even though lockdowns there will slow the region's economic recovery. Strong performances from companies seen to benefit from the ongoing work-from-home environment offset losses for airlines and retailers.
Earlier, stocks in Asia were buoyed by China's which climbed to 53.6, beating the 53.0 estimate and bolstering the argument for a global recovery. However, persistently rising coronavirus cases there may hit Chinese exports.
South Korea's (+1.5%) outperformed. South Korea's for October jumped back into expansion territory, hitting 51.2 and beating the 48.8 expectation. That marked the fastest pace for the metric in over two years, which was released just one day after data revealed the country's average daily posted growth for the first time in nine months on chip and car sales.
The Korean strengthened as a result.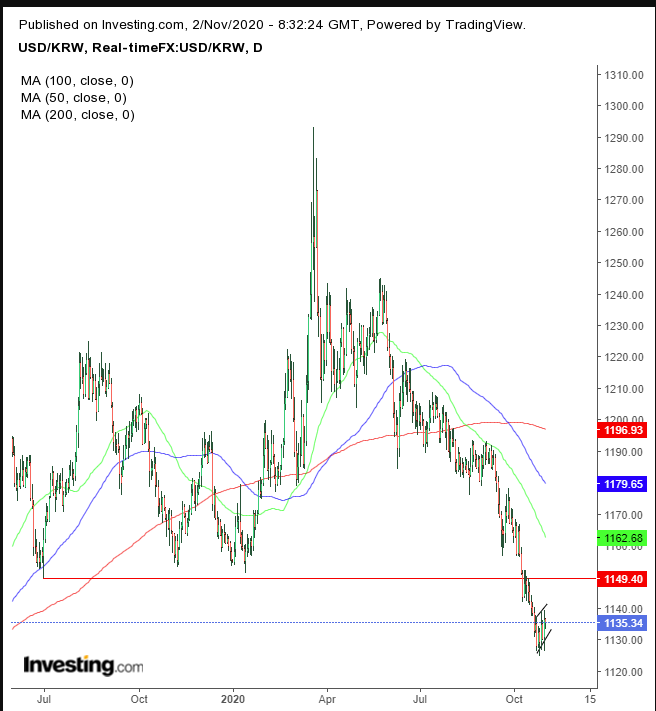 It is expected to further strengthen versus the dollar, as the dollar-won pair develops a rising flag, bearish following the sharp decline that preceded it. The preceding steep selloff came after the pair topped out.
Last week was the worst week for US markets since March as Congressional lawmakers failed to deliver the much sought after stimulus package and traders are looking for on the US economic outlook. Fed chairman Jerome Powell and his cohorts to come up with new spending to help people cope with the ongoing impact of the virus.
Yields, including for the Treasury note, pared most of Sunday's losses.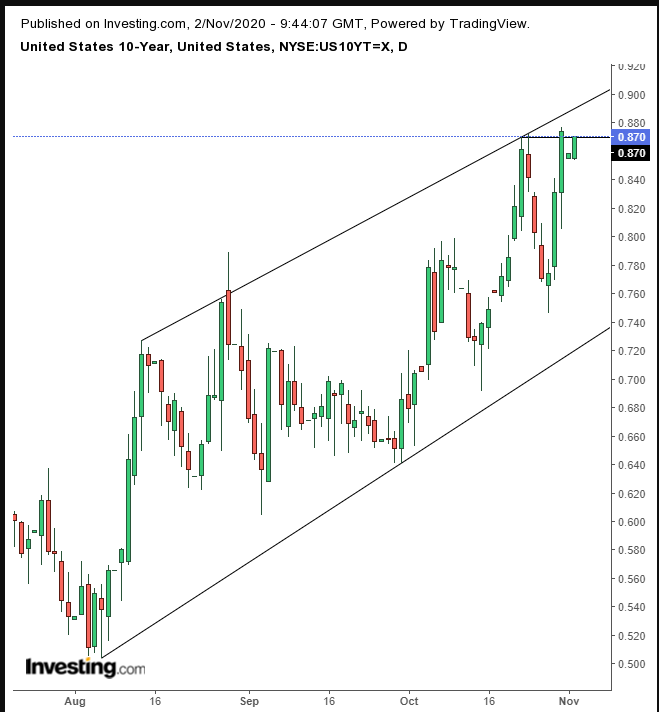 Bond investors seemed to be hedging their bets against rising US futures.
While European lockdowns increased demand for the US , pushing it to its fourth straight advance, it gave up most of those gains.
If the greenback finishes at these levels or lower, it will have been produced by closing a bearish shooting star, which may strengthen the view for a H&S continuation pattern, pushing it further down the downward trend it has been on since the March highs.
Both and were lower on dollar strength and risk-on appetite.
sank to a five month low amid rising Libyan output, which is expected to reach 800,000 barrels a day with a target of 1.3 million by early 2021 and is rebounding from a civil war that halted production. Compounded by European social restrictions, .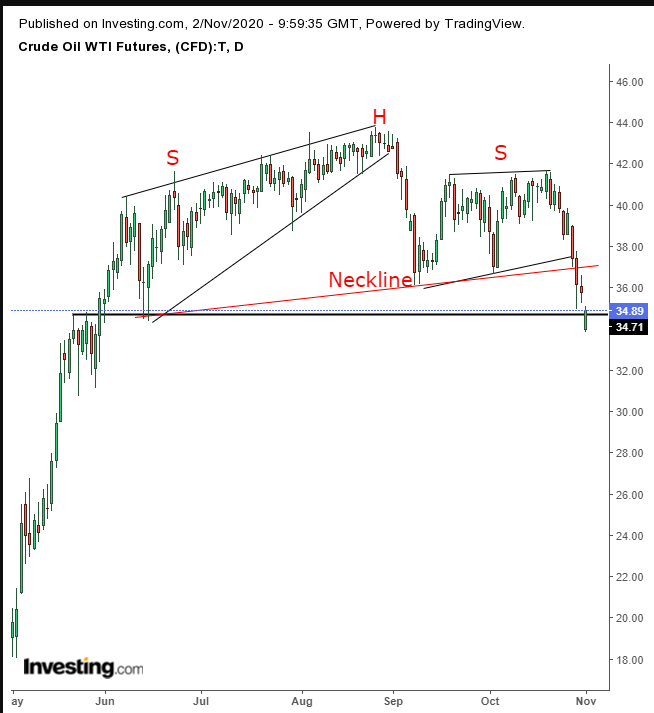 The downside penetration of a range expected following the preceding bearish wedge completed a large H&S top that incorporates both bearish patterns. Note, however, that the price seemed to have found support below the $25 level, a May resistance and mid-June support. This may be a good bouncing board for a return move toward the H&S neckline.
Up Ahead
Market Moves
Stocks
Futures on the S&P 500 Index added 0.2% .
The Index was little changed.
The Index fell 1.6%.
The index fell 1.5%.
Currencies
The Dollar Index rose 0.2%.
The dipped 0.1% to $1.1633.
The British declined 0.6% to $1.2869.
The Japanese weakened 0.2% to 104.91 per dollar.
The weakened 0.1% to 6.7 per dollar.
Bonds
The yield on 10-year Treasuries fell less than one basis point to 0.87%.
The yield on Treasuries was unchanged at 0.15%.
Germany's yield jumped one basis point to -0.62%.
Britain's yield was unchanged at 0.262%.
Japan's yield gained less than one basis point to 0.045%.
Commodities
West Texas Intermediate crude sank 4.3% to $34.20 a barrel.
dipped 2.2% to $37.11 a barrel.
Gold strengthened 0.2% to $1,882.48 an ounce.