US suffers highest ever virus deaths in a single day
Congress still unable to pass relief bill
OPEC+ rumored to have reached production agreement ahead of upcoming meeting
Key Events
On Thursday, US contracts, including those for the , , and and global stocks hovered near record highs after a , with traders considering their next move amid a torrent of themes. Continued increases in infections and deaths from COVID-19 in the US were offset by positive news on distribution of the vaccine. And an apparent impasse in Brexit negotiations contrasted with speculation of a breakthrough on .
As a result oil traded above $45 while the dollar slump continued.
Global Financial Affairs
US futures have been mixed ahead of the start of the Wall Street session after Wednesday's rally, which handed the Index another record close, up 0.2% to 3669.01. Traders are probably waiting for news on US stimulus talks, and after President-elect Joseph Biden vowed to aid workers hit by COVID-19 and Senator Bernie Sanders called for an "unprecedented" response to the pandemic.
On the pandemic front, America notched new records, now reporting over 200,000 daily cases and 100,000 hospitalizations. Perhaps the grimmest number is 3,157 fatalities in a single day, yesterday, 20% higher than the previous record, bringing the total number of deaths to 274,000. In response to the rising numbers, Los Angeles has imposed more austere measures, ordering residents to stay home and business to cease operations.
On Wednesday morning in Europe the Index was mixed from the outset, with energy firms weighing on the pan-European benchmark, even as contracts on oil futures are on the rise. Swedish miner Boliden (ST:) fell as much as 3% after a Goldman sell call.
The was flat as France threatened to veto a Brexit deal, while in the UK, members of the opposition Labour party are split on the trade agreement with the EU, which could mean the deal does not get approval in the House of Commons, the lower house in the UK parliament.
In Asia, most benchmarks were higher on continued optimism on vaccines and US fiscal stimulus. The news that Congress met on Wednesday raised hopes in among regional traders of a deal breakthrough. South Korea's outperformed and closed at record highs. A rally in chip and automobile industries pushed the index up 0.76% to 2696.22. The hit its highest level since June 2018.
Ironically, China's underperformed, down 0.2%, even after the showed that China's services activity grew to 57.8 from 56.8—extending the climb above the 50-mark signifying expansion. This reading built on an earlier read this week from the country's official revealing that services sector activity expanded for the ninth month in a row. We've often noted that China's stocks perform according to their own, hard to define, fundamentals.
Wednesday's S&P rally was driven by the energy sector. Companies, such as Exxon Mobil (NYSE:) and Chevron (NYSE:) led the rally, as oil prices also increased.
The current pause in the S&P is understandable as the index finds resistance as traders take profits following one of the best months in history. November also saw the enjoying its best month since January 1987, up 12%. The question is whether this increased supply is simply bulls cashing out or rather the beginning of something else. Morgan Stanley warned that stocks are overbought and there is risk of a correction.
The yield on US Treasuries climbed for the third day, as traders reduced their holdings, demonstrating that not everyone was bearish, even when US futures edged lower.
The extended a decline to a third day. The greenback reached a new 30-month low, its lowest since Apr. 24, 2018. Another 3% decline will take the it to its lowest depths since late 2014.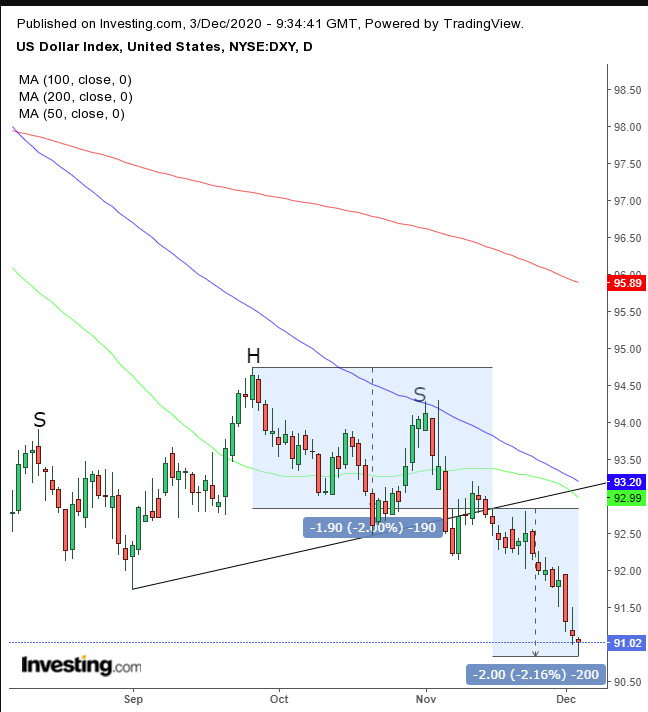 Dollar Index Daily
The dollar achieved the implied target of a H&S continuation pattern, though having registered another trough within the downtrend, it increases the odds of a continued downtrend.
enjoyed a dual tailwind of both a weakening dollar and falling stock prices.
The price enjoyed its third day of increases, pushing past its short-term downtrend line, above the 200 DMA and back into a falling pattern.
enthusiasts continue to obsess over the cryptocurrency's apparent recognition by mainstream financial markets and the perceived 'traditional media.' There are now a record number of active Bitcoin users.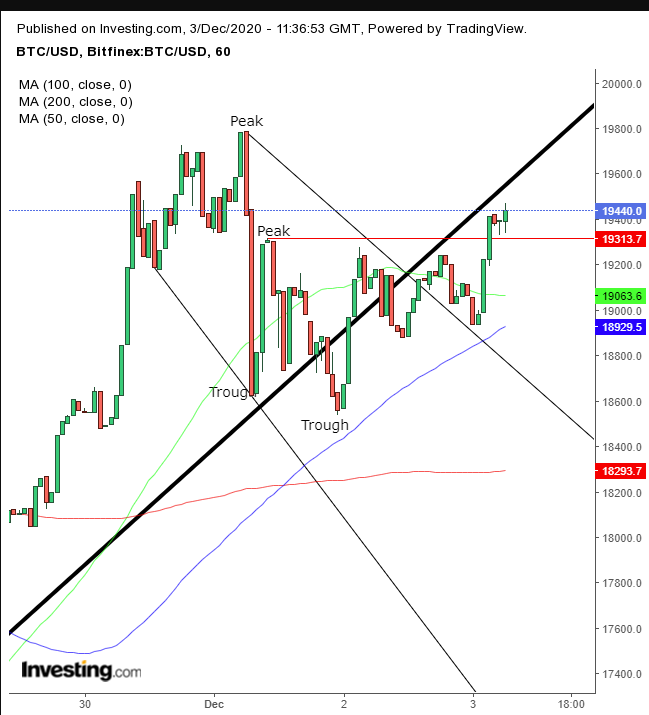 Bitcoin Daily
The cryptocurrency has now broken through the resistance of Tuesday morning but still has to make its way back above the broken downtrend line.
advanced on rumors that OPEC+ talks will result in an agreement. Traders are weighing conflicting themes of the biggest bullish positions since August, thanks to vaccine progress and rising inventories are betting oil will continue rising, based on the technicals.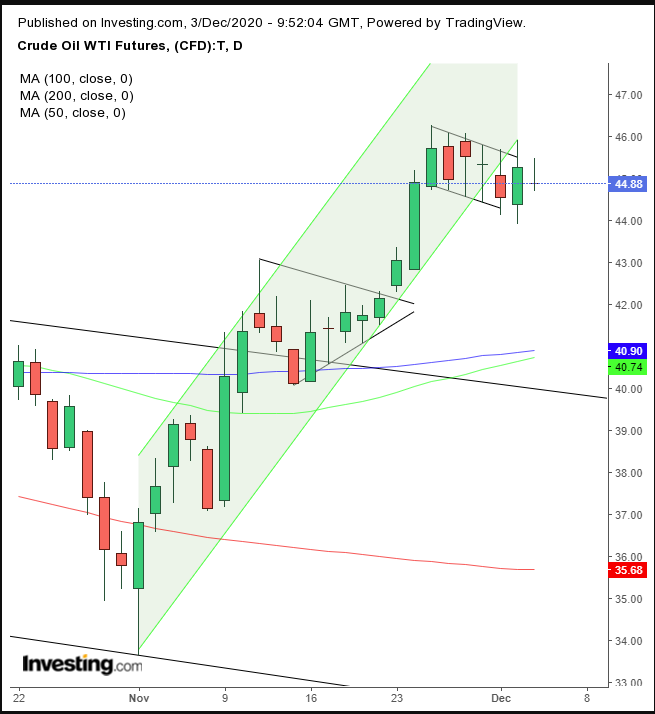 Oil is along a falling flag, and is expected to break to the topside following its preceding spike. However, only after that breakout will the pattern complete itself.
Up Ahead
The U.S. on Friday is expected to show more Americans headed back to work in November, though at a slower pace than October.
German for October are due Friday.
Market Moves
Stocks
Futures on the S&P 500 Index were little changed.
The Stoxx Europe 600 Index was little changed.
The Index advanced 0.5%.
The Index gained 0.5%.
Currencies
The Dollar Index fell 0.1% to 90.95.
The gained 0.1% to $1.2132.
The jumped 0.3% to $1.3404.
The was little changed at 6.56 per dollar.
The strengthened 0.1% to 104.32 per dollar.
Bonds
The yield on 10-year Treasuries gained less than one basis point to 0.94%.
The yield on Treasuries increased less than one basis point to 0.16%.
Germany's yield fell one basis point to -0.53%.
Japan's yield was unchanged at 0.026%.
Britain's yield fell one basis point to 0.348%.
Commodities
West Texas Intermediate crude climbed 0.1% to $45.31 a barrel.
increased 0.3% to $48.38 a barrel.
Gold strengthened 0.4% to $1,839.33 an ounce.