Investors rotate out of tech shares and into value stocks
Questions remain about Pfizer vaccine, tempering risk-on
Gold pares losses
Key Events
Monday's global rally weakened in pre-US market trade on Tuesday, but haven assets continue to see increased demand and tech shares remain under pressure as investors realize that what was considered a vaccine breakthrough is not yet a sure thing. Pfizer's potential coronavirus vaccine faces many hurdles before approval, and distribution poses additional challenges.
Contracts on the and tech-heavy are in the red on Tuesday as investors continue to see value in and components which stand to benefit from any economic recovery that a vaccine would facilitate.
Oil continues its recovery, having posted its largest one day percentage gain in five months on Monday.
Global Financial Affairs
In Europe, the travel and energy sectors built on Monday's strong 4% rally, leading the index moderately higher.
This morning, stocks in Asia trimmed gains, while China's (-0.4%) fell into the red.
Yesterday, US equities pared a powerful rally after the Republican Senate Majority Leader, Mitch McConnell called for a smaller coronavirus relief package then what Democrats want. This after the US Federal Reserve that if the pandemic's economic impact worsens in the coming months, the financial markets could be severely hurt.
McConnell also said that President Donald Trump is within his rights to contest the presidential election results, increasing political instability.
During Monday's New York session, the index lost record gains made at the open, but still managed to close at a two-month high on unusually high trading volume after the news from Pfizer (NYSE:) that a coronavirus vaccine it is developing with BioNtech (NASDAQ:) had prevented 90% of infections in a late-stage trial.
The closed more than 800 points higher, adding 3% to its value, also testing all-time highs.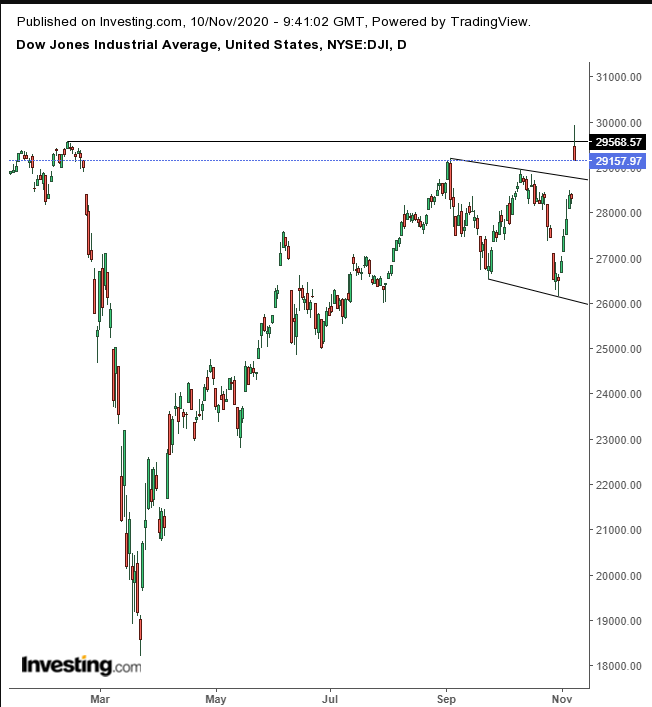 The mega cap index came to a technical crossroads, developing a shooting star at its mid-February all-time high, while having provided an upside breakout of a range.
The dropped as big tech companies, including Amazon (NASDAQ:) and Netflix (NASDAQ:), were sold off amid the rotation out of stocks that had performed well during the pandemic, into those that had suffered and were suddenly considered bargains.
The fell back to its lowest level since Aug. 28.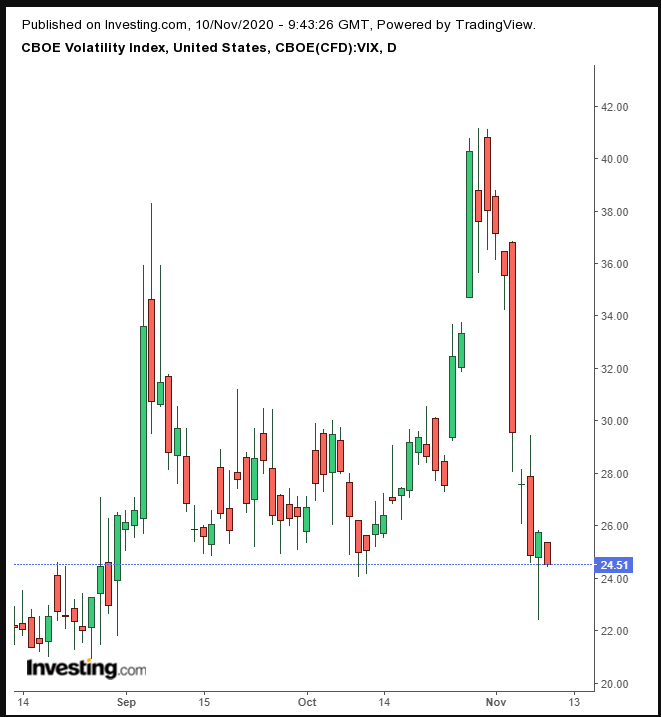 The volatility index had bounced off those lows later in Monday's session.
Yields, including for the US Treasury, reached the highest since Mar. 19.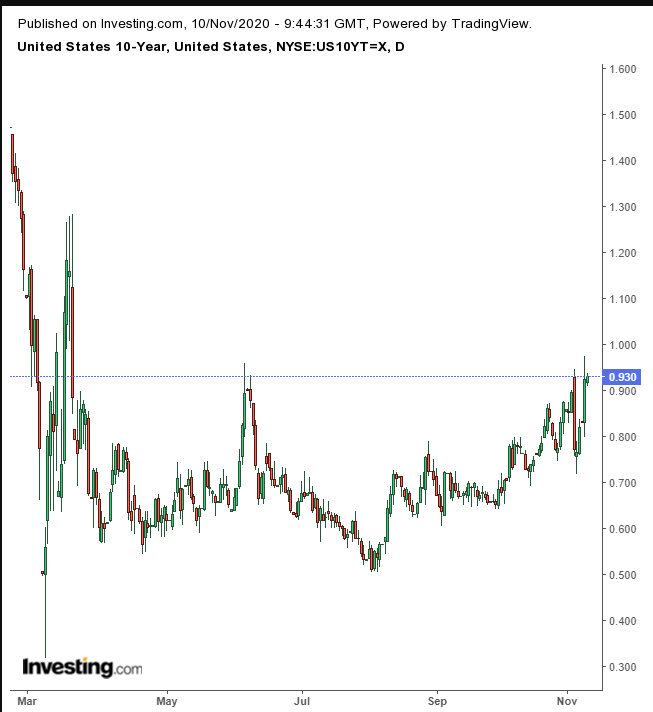 The jump confirmed the return of risk-on sentiment.
Having in trading on Monday, the remained little changed.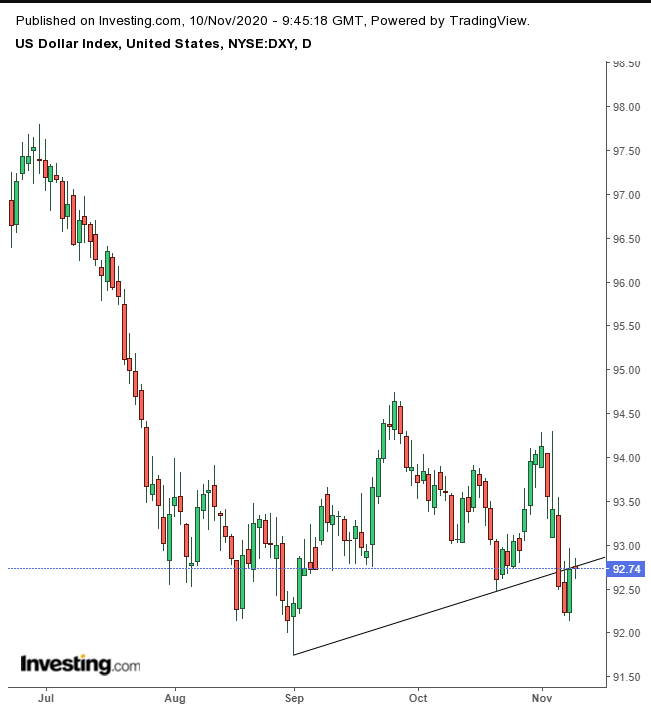 The greenback is stuck at the neckline of a H&S continuation pattern, signalling a resumption of the downtrend since the March highs.
Gold, which on the vaccine news, pared losses.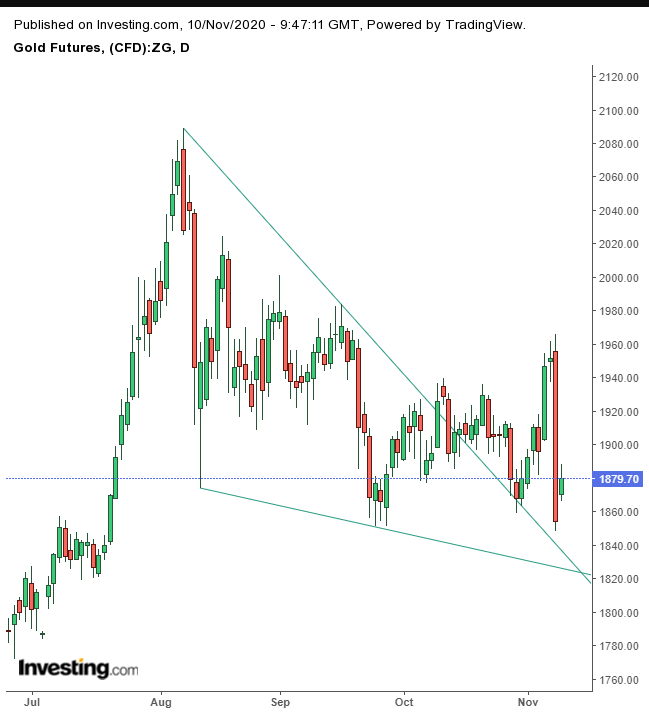 Gold Daily
The recovery reignited investor appetite for risk, but the yellow metal nevertheless found support by the rising wedge. That is a testament to gold's strength.
extended Monday's powerful rebound to just below the $41 level, its highest point since Oct. 20, on the expectation that a vaccine will spur the economy to return to normal.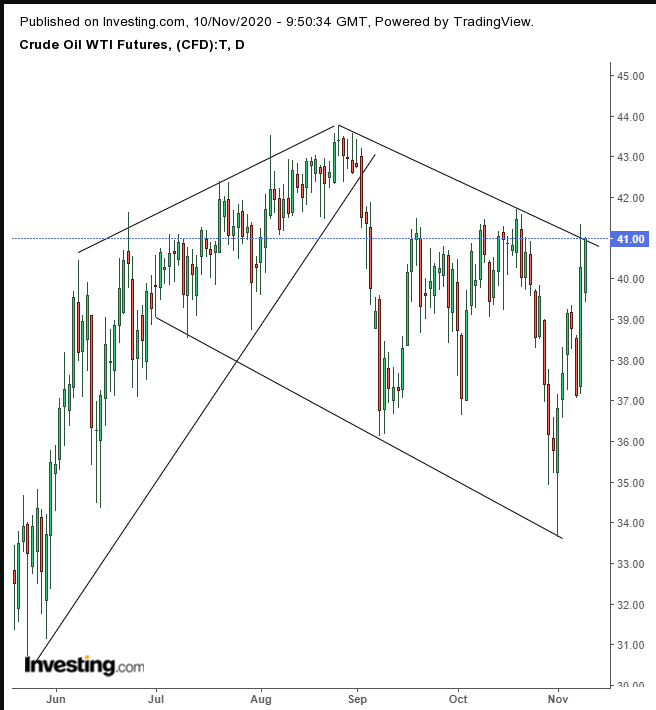 From a technical perspective, oil is in an ideal place for a short, having found resistance at the top of its falling channel, following a bearish wedge.
Up Ahead
On Wednesday Alibaba (NYSE:) holds its annual Singles' Day event, an online global shopping phenomenon that generated $38 billion of sales last year.
European Central Bank President Christine , Bank of England Governor Andrew and Federal Reserve Chair Jerome are among the speakers at an online ECB Forum entitled "Central Banks in a Shifting World" on Thursday.
The US reports and on Thursday.
Market Moves
Stocks
The Stoxx Europe 600 Index was little changed.
Futures on the S&P 500 Index were little changed.
The Index gained 0.6%.
Currencies
The Dollar Index was flat.
The British gained 0.79% to $1.3268.
The Japanese strengthened 0.1% to 105.26 per dollar.
The Mexican strengthened 0.104% to 20.3338 per dollar.
Bonds
The yield on 10-year Treasuries increased less than one basis point to 0.93%.
The yield on Treasuries declined one basis point to 1.70%.
Germany's yield decreased less than one basis point to -0.51%.
Britain's yield was unchanged at 0.372%.
Commodities
West Texas Intermediate crude increased 1% to $40.71 a barrel.
Gold strengthened 1.3% to $1,887.45 an ounce.
rose 0.16% to $1,904.75 per metric ton.
climbed 1.88% to $119.84 per metric ton.