Global stock gauges fall for the third day after hitting record highs
New York City schools closure weighs on Wall Street
Investors rotate back into stocks that do well during lockdowns
falls on profit-taking
Key Events
Contracts on US futures including for the , , and , as well as European shares fell on Thursday following Wednesday's announcement during the Wall Street session that as cases of coronavirus continue to increase there and across the United States.
COVID-19 related deaths in the US have now passed 250,000 and this news offset Pfizer's update that its potential vaccine efficacy rate was actually 95% in late stage trials, taking the company closer to an application for an emergency use authorization.
The dollar is up, ending its recent decline but gold is down for the third consecutive day.
Global Financial Affairs
The equity market continues to whipsaw between sectors that benefit from social restrictions and those that do not. Investors are reversing a rotation out of tech and into value sectors on continued bad news about escalating coronavirus cases.
The HSBC MSCI World UCITS ETF (LON:), which tracks stocks from 23 developed countries worldwide, fell for the third day after posting a record high.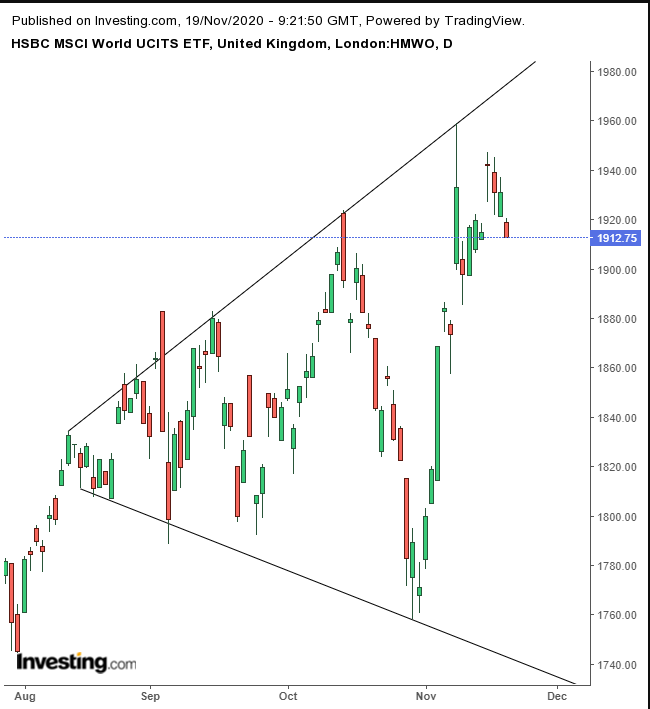 HMWO Daily
The global benchmark fell from the top of a broadening pattern, demonstrating a disoriented market.
All four US contracts are in the red today, with Russell 2000 futures underperforming, as the switch between stocks that outperform in a stay-at-home environment and those that best respond to an economic recovery continues.
European stocks fell right out of the gate, with declines in every sector. German conglomerate Thyssenkrupp (DE:) plunged 7% after announcing the company would cut 5,000 jobs in addition to the 6,000 announced last year, totalling 10% of its workforce, after posting a $6.5 billion net loss for the year ending September.
There was additional bad news from Norwegian Air Shuttle (OL:), which crashed 16% after filing for bankruptcy, making it Europe's biggest airline casualty of the virus, thus far.
An Oxford study confirming that AstraZeneca's (NYSE:) potential vaccine for COVID-19 produced a strong response among older patients failed to ignite shares in the pharma giant.
In Asia, stocks on the (+0.5%) outperformed, driven by consumer shares. The Chinese government has enabled local governments to issue consumption coupons to encourage shoppers to resume normal spending activities, a pioneering growth model to try and salvage the national economy. The also closed in positive territory unlike Hong Kong's and Japan's which both closed in the red.
American stocks extended their decline on Wednesday as states in the US tightened restrictions to slow the viral spread. Pfizer (NYSE:) closed up 0.8%, but was down from an intraday high of 3.8%.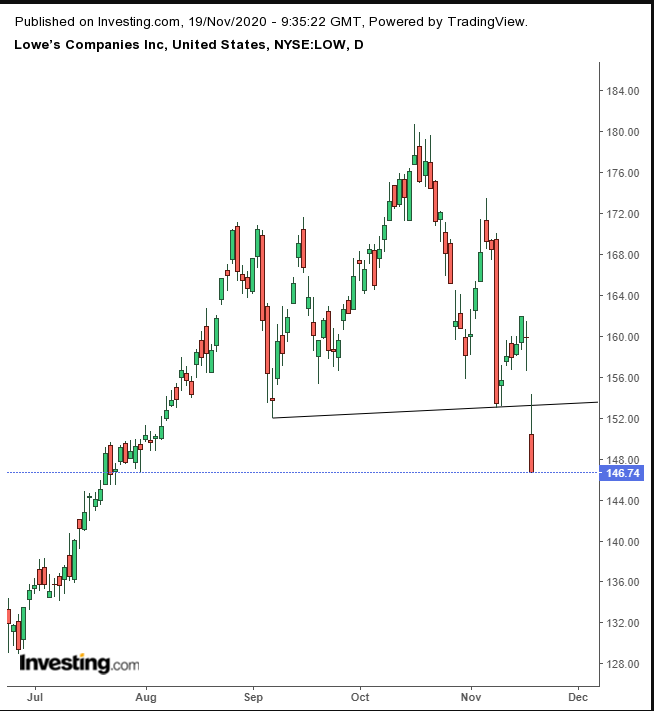 Shares of home improvement retailer Lowe's (NYSE:) plummeted 8.21% on disappointing , completing a H&S top.
Target (NYSE:) jumped 2.3% on . However, like Pfizer, even stocks of companies that outperformed were dragged down—Target's closing gains pared a 5.5% intraday high.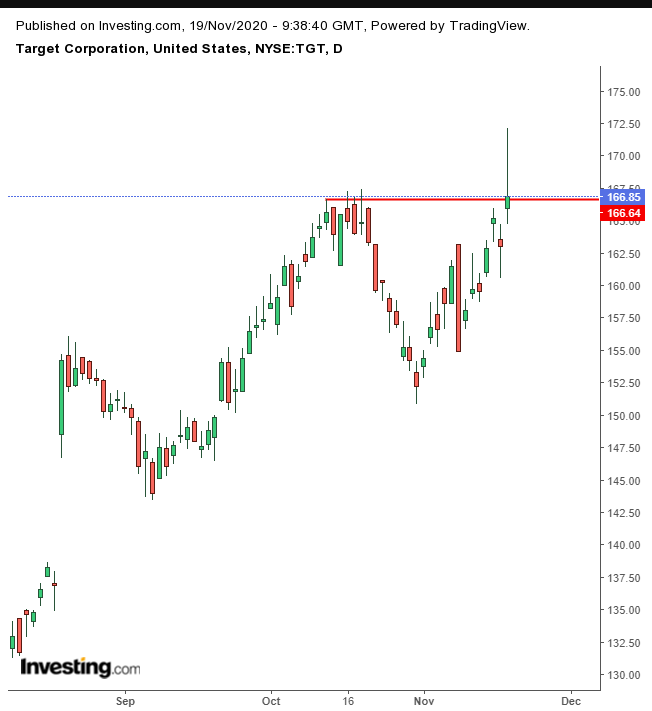 The sharp retreat created a potentially dangerous shooting star, right on the resistance of the highs since Oct. 13.
Yields on the Treasury note fell to 0.85.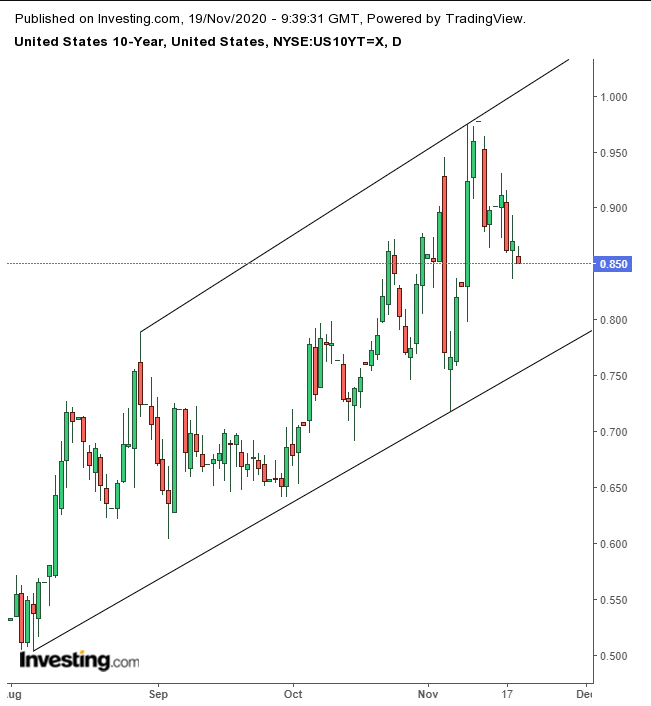 The move was toward the bottom of its rising channel.
Meanwhile, the rose, ending a five straight day decline.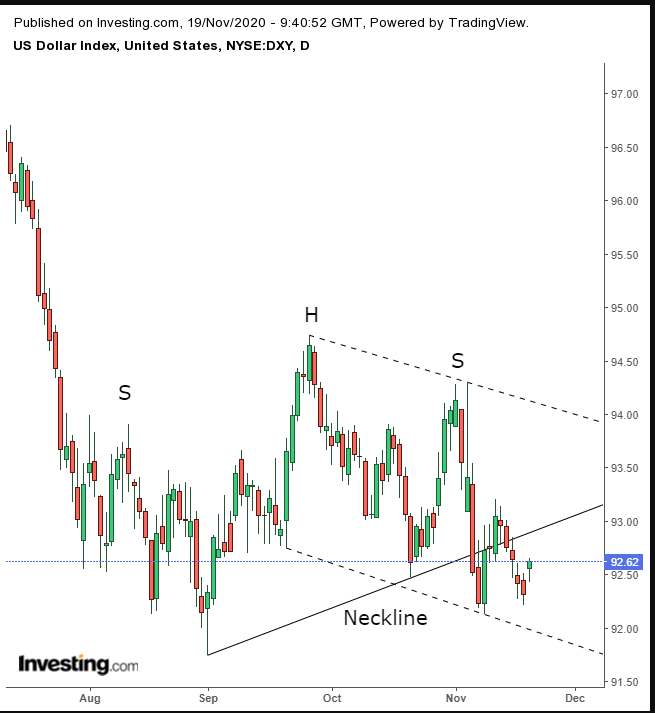 Presumably this is a return move toward the neckline of a H&S continuation pattern, as well as toward the top of its falling channel.
Dollar strength weighed on , pushing the yellow metal lower for the third day in a row.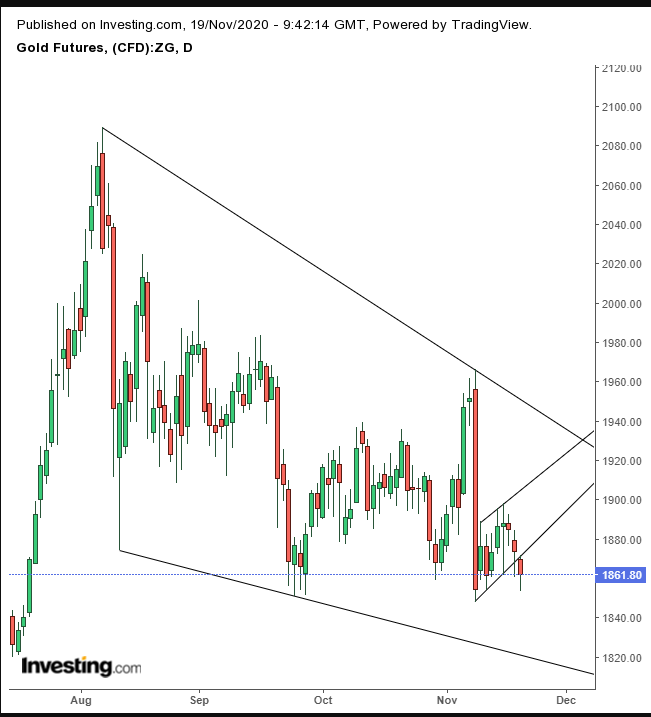 Gold is potentially completing a bearish flag, whose implied target would retest the bottom of what may be a bullish wedge.
fell toward $17,500, ending a three-day advance to an intraday high above $18,00 for the first time in three years. The dollar's weakness during the COVID pandemic convinced traders to seek value in the cryptocurrency, kicking it up 150% this year, of which 15% was in the last week alone.
The seismic activity even prompted Bridgewater Associates' Ray Dalio to tweet a confession that he's second guessing his opinion of Bitcoin. However, on Wednesday, JPMorgan Chase's Chairman and CEO, Jamie Dimon said that although he's a "believer" in blockchain technology that is "properly backed and properly regulated, Bitcoin is still not his cup of tea. However, he did acknowledge that "very smart people" are buying into the cryptocurrency in the belief that it will outperform gold, the dollar and Treasuries.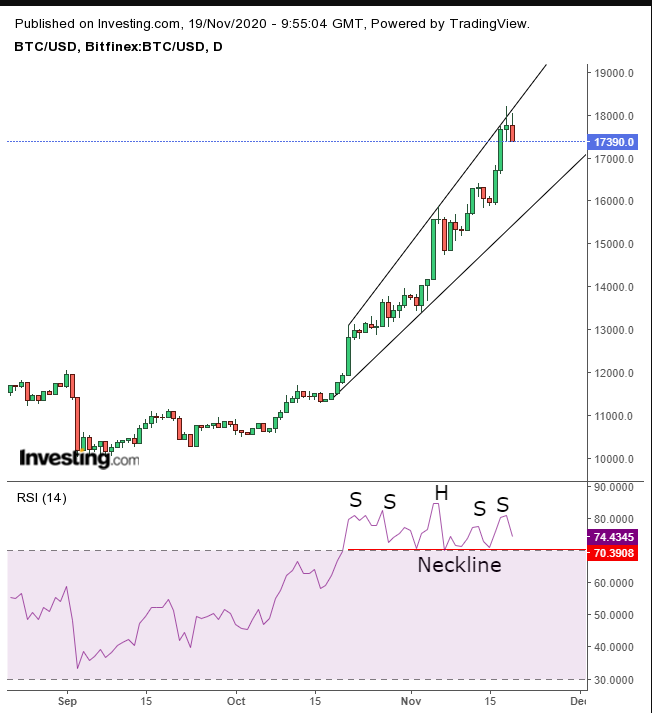 Bitcoin's slump confirmed yesterday's high wave candle, which in turn underscored the resistance at the top of the falling channel. The RSI has been extremely oversold for nearly a full month—the longest duration since June 2019—developing a H&S top.
continued to struggle between positive vaccine news and dampened demand from lockdowns as well as increasing . The price of oil is expected to remain uncertain as Tuesday's OPEC+ meeting failed to provide any .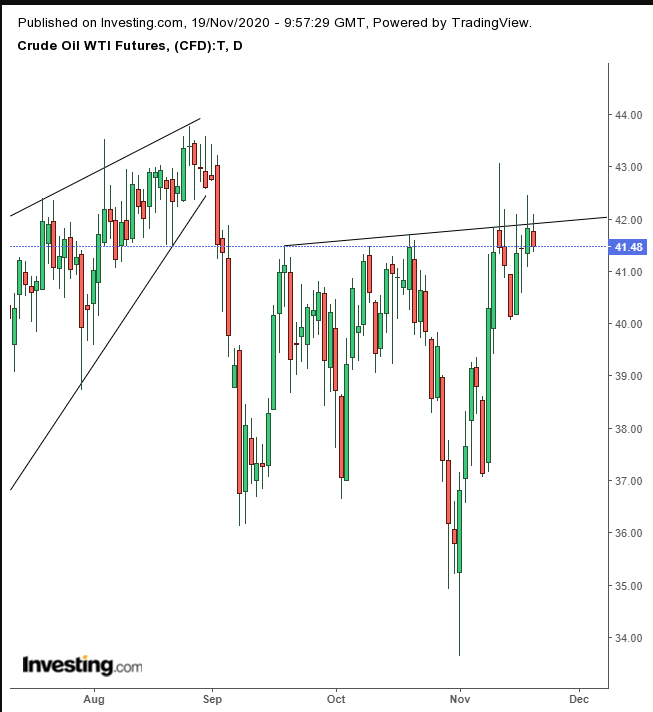 Technically, the contract has failed to top the resistance line today for the fifth time.
Up Ahead
Brexit talks look set to continue as the U.K. and EU approach the latest deadline.
Today's data includes the US , the for November and .
Market Moves
Stocks
The Stoxx 600 Index fell 0.7%.
NASDAQ 100 Index futures decreased 0.3%.
Futures on the S&P 500 Index fell 0.1%.
The Index dipped 0.4%.
Currencies
The Dollar Index climbed 0.3% to 92.60.
The British declined 0.5% to $1.3213.
The Japanese weakened 0.1% to 103.94 per dollar.
The strengthened 0.4% to 7.6725 per dollar.
Bonds
Germany's yield declined one basis point to -0.57%.
Britain's yield declined two basis points to 0.321%.
France's yield decreased one basis point to -0.333%.
Japan's yield was unchanged at 0.018%.
Commodities
West Texas Intermediate crude decreased 0.5% to $41.63 a barrel.
Gold weakened 0.7% to $1,859.83 an ounce.
fell 0.1% to $2,743.50 per metric ton.
gained 1.1% to $124.25 per metric ton.