Stocks on Wall Street ended mixed on Friday, with the falling slightly to end a disappointing week, as investors monitored ongoing talks in Washington as well as the latest batch of third quarter earnings.
For the week, the Dow and lost 0.9% and 0.5%, respectively, to break a three-week winning streak. The meanwhile dropped 1.1%, posting its first weekly loss in five weeks.
The week ahead is packed with a heavy slate of high-profile earnings reports, key economic data, the looming Nov. 3 election and continued stimulus talks.
Here we'll highlight one stock which has proven it can successfully navigate the current uncertain market environment and another likely to see further losses in the coming days:
Stock To Buy: Pinterest 
Pinterest (NYSE:) has been a standout performer in the booming social media space this year, benefiting from increased traffic as people around the world flock to the image-sharing platform during the COVID-19 pandemic.
Year-to-date, shares of the San Francisco, California-based social media platform have soared 184%, easily outperforming the S&P 500's nearly 7% increase over the same timeframe.
The stock, which has outperformed other notable names in the sector since the start of the year, such as Facebook (NASDAQ:), Twitter (NYSE:) and Snap (NYSE:), ended at an all-time high of $53.00 on Friday, giving it a market cap of roughly $20.8 billion.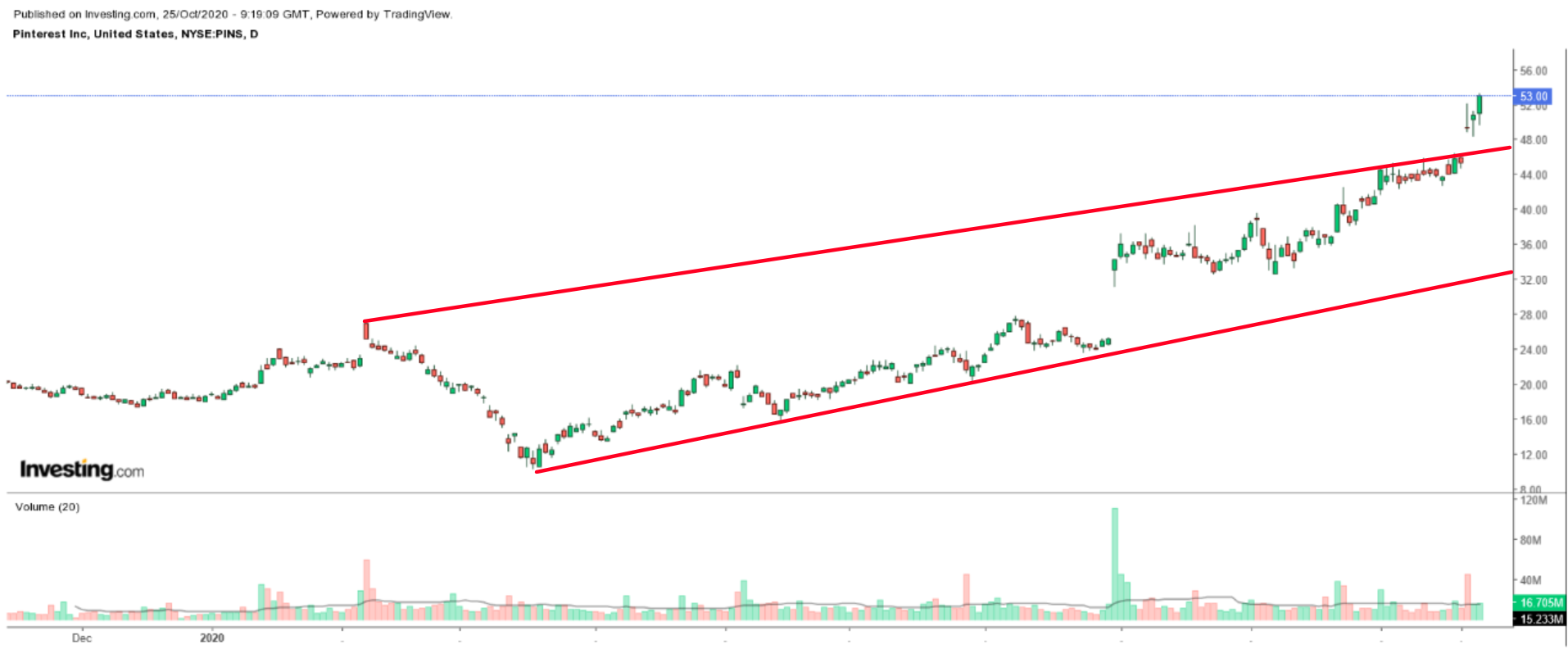 PINS, whose second-quarter results—released in late July—, is scheduled to next report financial results on Wednesday, Oct. 28 after the closing bell.
Consensus calls for earnings per share (EPS) of $0.04, improving from EPS of $0.01 in the year-ago period. Revenue is forecast to jump 35% compared to the same period a year earlier to $378.9 million, as its users continued to have high levels of engagement even after coronavirus-related lockdown measures were eased.
As such, investors will pay close attention to Pinterest's update regarding its global monthly active users (MAUs) to see if it can maintain its torrid pace of growth. As of the last earnings report, the company's global MAUs stood at 416 million, a 39% surge yea-over-year. 
We expect Pinterest to report another quarter of blockbuster earnings as the current operating environment has created a perfect backdrop for digital ad companies to thrive amid the coronavirus outbreak.
Stock To Dump: ExxonMobil
ExxonMobil (NYSE:)'s stock has been on the back foot for the most part of 2020 as low commodity prices and the negative impact of the coronavirus-induced economic slowdown hammered its key businesses.
Shares of the Irving, Texas-based oil and gas giant—which closed at $34.16 on Friday— have lost 51% so far this year. They sank to their lowest level since 2004 during the peak of the coronavirus selloff in March. At current levels, Exxon has a market cap of $144.4 billion, tumbling from its all-time high of $446 billion in mid-2014, when prices last traded above the $100-per-barrel-level.
The breathtaking collapse saw Exxon briefly lose its title as the largest U.S. oil company by market value to rival Chevron (NYSE:) in early October, the first time it has been dethroned since it began as Standard Oil more than a century ago.
To add insult to injury, the once iconic blue-chip stock—which as recently as 2013 was the world's most valuable corporation—was kicked out of the Dow Jones Industrial Average Aug. 31st after 92 years on the key index.
Exxon reported in late July, missing expectations for both earnings and revenue amid low oil prices and reduced production in both its U.S. and non-U.S. operations.
The oil major next reports financial results before the U.S. market opens on Friday, Oct, 30. Consensus calls for a loss of $0.25 per share, tumbling from earnings per share of $0.68 in the year-ago period. Revenue is forecast to clock in at roughly $45.1 billion, plunging 30% from sales of $65.05 billion in the same quarter a year earlier.
The main question on investors' minds is whether Exxon will take further steps to preserve its dividend. The company, which has already slashed its investment budget by $10 billion this year, could announce further spending and job cuts in its Q3 report.
From a technical standpoint, ExxonMobil shares remain below both their 50-day and 200-day moving averages, which usually signals more losses ahead.
Taking all this into consideration, XOM shares look set to remain under pressure in the coming days as investors brace for disappointing financial results.