Market Indexes:
The market had a split decision this week, with the small caps rising over 2%, the Tech-heavy staying positive, and both the and losing ground.  Rising coronavirus case counts and hospitalizations have already caused several cities and states to introduce a slate of new restrictions to keep the virus at bay until an inoculation becomes widely available.
On Friday, Pfizer (NYSE:) and BioNTech (NASDAQ:) submitted an application for an emergency use authorization for their trial COVID-19 vaccine candidate, making their vaccine candidate the first in line with U.S. regulators.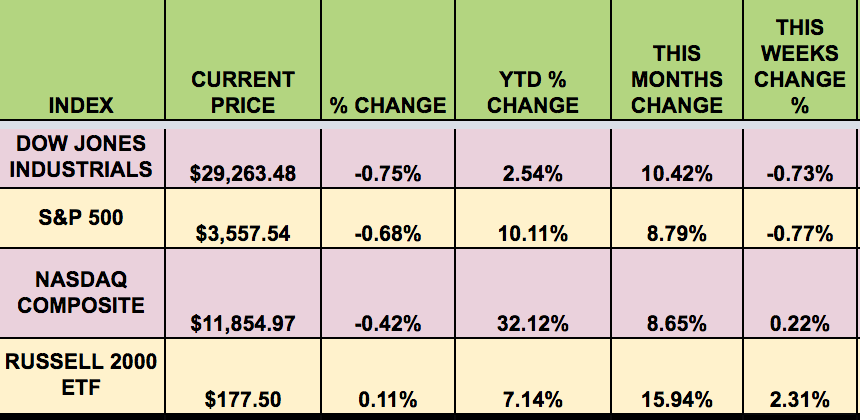 Volatility:
The rose 3% this week, remaining at a high level, ending at $23.70.

High Dividend Stocks:
These high dividend stocks go ex-dividend next week: PRU, BBDC, PBA, TPVG, BPYU, CTT, EFC.
.Market Breadth:
20 out of 30 DOW stocks rose this week, vs. 25 last week. 76% of the rose, vs. 80% last week.
Forex:
The fell vs. most major currencies this week.
"The dollar rose for the first time in six days on Thursday, as investors grew cautious about the persistent rise in coronavirus infections that forced localized shutdowns around the world, with broad optimism about upcoming COVID-19 vaccines fading a bit.

The U.S. death toll from COVID-19 passed 250,000 on Wednesday as New York City's public school system, the country's largest, halted in-person instruction, citing a jump in infection rates." (Reuters)

Economic News:
"The number of Americans filing first-time claims for jobless benefits unexpectedly rose last week, likely as new business restrictions to control spiraling COVID-19 infections unleashed a fresh wave of layoffs, which could further slow the labor market recovery. Initial claims for state unemployment benefits increased 31,000 to a seasonally adjusted 742,000 for the week ended Nov. 14. Economists polled by Reuters had forecast 707,000 applications for the latest week." (Reuters)

"Sales of previously owned U.S. homes unexpectedly rose in October to the highest level in almost 15 years, extending a housing market boom fueled by record-low mortgage rates and buyers' desire for properties in the suburbs. Contract closings increased 4.3% from the prior month to an annualized 6.85 million, the strongest pace since November 2005, according to National Association of Realtors data released Thursday." (Bloomberg)

"U.S. retail sales increased less than expected in October and could slow further, restrained by spiraling new COVID-19 infections and declining household income as millions of unemployed Americans lose government financial support.

Retail sales rose 0.3% last month after increasing 1.6% in September, the Commerce Department said. They account for the goods component of consumer spending, with services such as healthcare, education, travel and hotel accommodation making up the other portion.

Sales were supported by Amazon (NASDAQ:).com's "Prime Day" event, with online receipts surging 3.1%. Consumers also bought motor vehicles, though at a much slower pace than in the previous months.

There were also increases in sales of electronics and appliances, as well as building materials and garden equipment. But households cut back spending on sporting goods and hobbies, clothing, furniture, drinking and dining out." (Reuters)

"Homebuilder confidence in the U.S. jumped in November, hitting another record high as buyers swarmed sales offices to take advantage of the lowest mortgage rates in history.

The gauge of builder sentiment rose to 90, the highest in data going back to 1985 and up from 85 in October, according to the National Association of Home Builders/Wells Fargo Market index released Tuesday. It was third straight month of record-high readings and beat the median forecast of 85 in a Bloomberg survey of economists." (Bloomberg)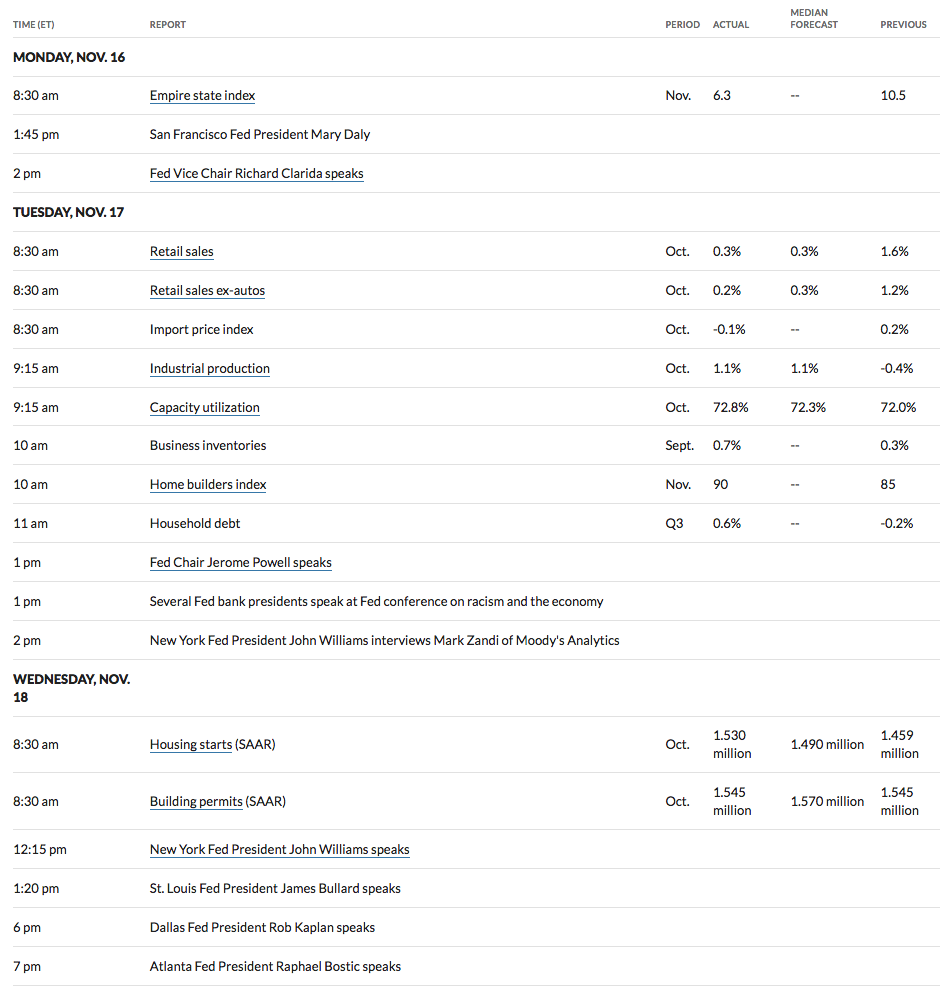 Week Ahead Highlights:
US markets will be closed on Thursday, 11/26/20, for the Thanksgiving holiday. Several consumer reports are due out next week, including , which could shed some light on how much-increased pandemic lockdown restrictions curbed spending in October.
Next Week's US Economic Reports:
Sectors:
The Energy sector had another positive week, rising 5.7%, and leading all sectors, with Utilities lagging.
Futures:
rose 5.8% this week, ending at $42.47. fell -11%.