The COVID pandemic has created headwinds for some businesses while providing tailwinds for others. In general, many consumer staples companies focusing on food have fared well, offering good opportunities for astute investors, especially during the initial lockdowns across the globe in early spring.
On the other hand, food and beverage companies that also rely on leisure businesses such as restaurants and cinemas have seen a portion of their revenues decline. Similarly, retailers, especially those that would not necessarily be considered essential businesses, have taken a hit to their revenues and their share prices.
In recent weeks, we discussed that focus on food, agricultural produce, global , and listed in the UK's FTSE indices as well as their US counterparts.
Today, we extend the discussion to another member with global operations, i.e., Associated British Foods (LON:), (OTC:), to see if the shares are a good fit for long-term portfolios.
Diversified Business

Associated British Foods, which has diversified lines of business, is controlled by the founders' descendants. Over the past decade, ABF shares have gone up over 100% or a compound annual growth rate (CAGR) of over 7.5%. However, since the start of the year, the shares are down 34%.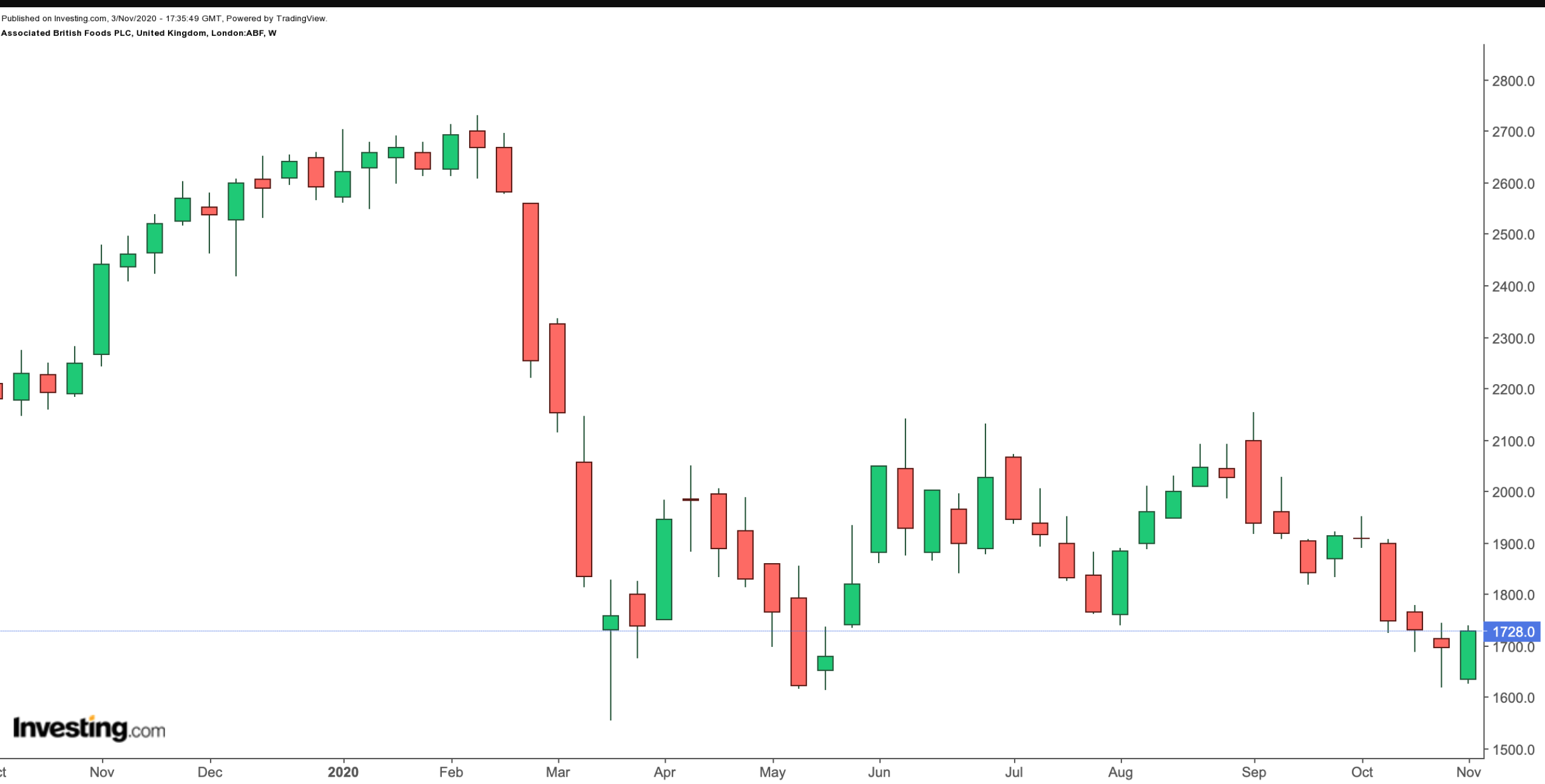 On Nov. 3, Associated British Foods reported FY20 annual results for the year ended 12 Sept. came at £13.94 billion (or $18.19), a decline of 12% year-on-year (YoY). But pretax profit was £686 million, a decrease of 40% ($895 million).
Five segments contribute to revenues: Grocery, Sugar, Agriculture, Retail, Ingredients. The decline in sales and profits was mainly due to the closure of Primark clothing and lifestyle retail stores during the year. With the upcoming further lockdowns in November in the UK, Primark revenue is likely to be adversely affected again.
On the other hand, the other segments, especially grocery and sugar, have had robust performances. Many readers globally are likely to be familiar with several of the company's brands, including Jordans, Dorset, Ryvita, Twinings, and Ovaltine.
In the UK, The Silver Spoon Company markets sugar and sugar-alternatives. Allied Mills operations manufacture well-known brands, such as Burgen, Allinson, Sunblest and Kingsmill.
AC Food Companies is another specialty food ingredients business operating across North America. Some of the US-based products include Mazola corn oil, Karo corn syrup and the corn starch brand, Argo. Readers in Mexico are likely to be familiar with its Capullo cooking oil and the shortening brand, Inca.
Finally, investors in Australia and New Mexico would possibly know that George Weston Foods produces brands like Burgen, Tip Top breads, Don deli products and KR Castlemaine meats.
The FY20 results announcements showed that to save cash, top executives said they would take salary cuts and the group would not pay an interim dividend.
CEO George Weston said:
"Our food businesses delivered an adjusted operating profit increase of 26%, driven by high demand and improved productivity. Following a three-month closure, Primark delivered a robust performance… We have the people and the cash resources to meet the challenges ahead and we are investing for the future."
Yesterday, ABF stock closed at 1,728p. ($22.53 for US-based shares). Forward P/E and P/S ratios stand at 13.76 and 0.85, respectively. Contrarian investors who are also searching for value may want to put the shares on their radar.
We believe most of the bad news has already been priced into the share price.
Bottom Line
Investors looking for large-cap stocks that have not had a great year so far in 2020 have a number of additional stocks to choose from both in the UK and the US. For instance, shares of another FTSE 100 member, Compass Group (LON:), (OTC:), a multinational contract catering company, are down close to 45% year-to-date (YTD). The company has operations in close to four dozen countries and employs about 600,000 people.
CPG's forward P/E and P/S ratios are 25.51 and 0.68. The current share price of 1,089p. ($14.38 for US-based shares) supports a dividend yield of 2.5%. We believe those investing money in the group during the final stretch of the year can potentially expect attractive returns in 2021.
Stateside, shares of Coca-Cola (NYSE:) and Yum! Brands (NYSE:) are down around 10% and 4% respectively YTD. Finally, shares of Mondelez International (NASDAQ:) and PepsiCo (NASDAQ:) are about flat so far in 2020. Long-term shareholders in all four companies would also be entitled to respectable dividends.