Investors headed for the hills Monday, dumping stocks and pouring into government bonds, pushing down yields on benchmarks to levels not seen in months. Are they on to something?
Commentators point to a global as well as US of COVID-19 infections, driven by new variants which appear to be more contagious. The main fear seems to be slower growth caused by a combination of new health restrictions and higher inflation that forces the Federal Reserve to tighten monetary policy.
'Whatever Steps Necessary' To Support Economy
US President Joe Biden, in a curious statement Monday, said he had reminded Fed Chairman Jerome Powell recently that the Fed is independent, and "should take whatever steps necessary" to support the economy.
Hmm. Is that a green light to tighten policy by tapering bond purchases or hinting at rate hikes? Or is it a trap—slyly passing the buck to the Fed to take the heat for stymying economic growth?
In any case, why should the Fed chairman need reminding that he is independent, aside from the looming question of his ?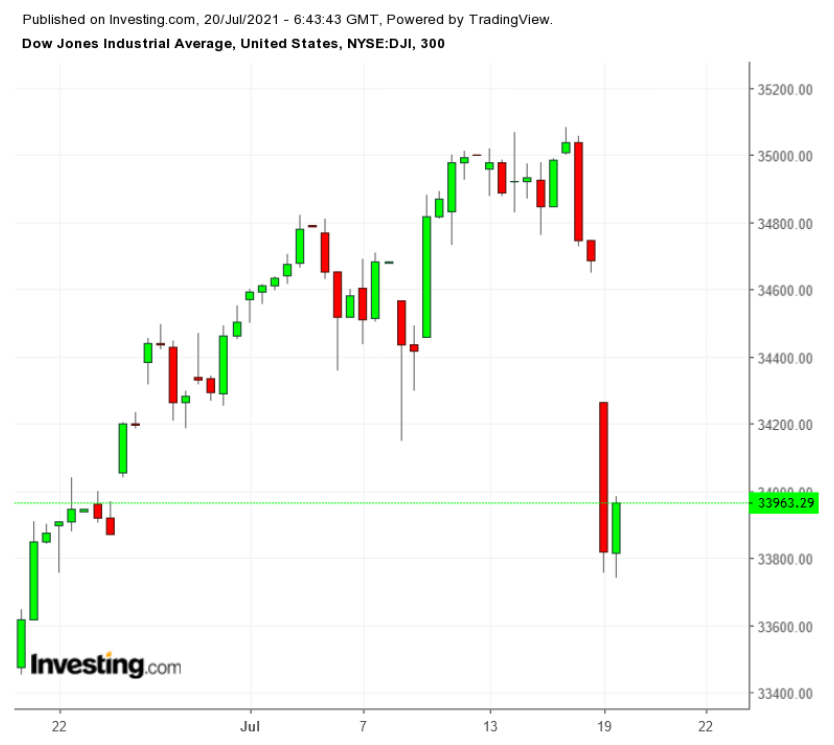 Major US stock measures were down 1.5 to 2.1% across the board on Monday.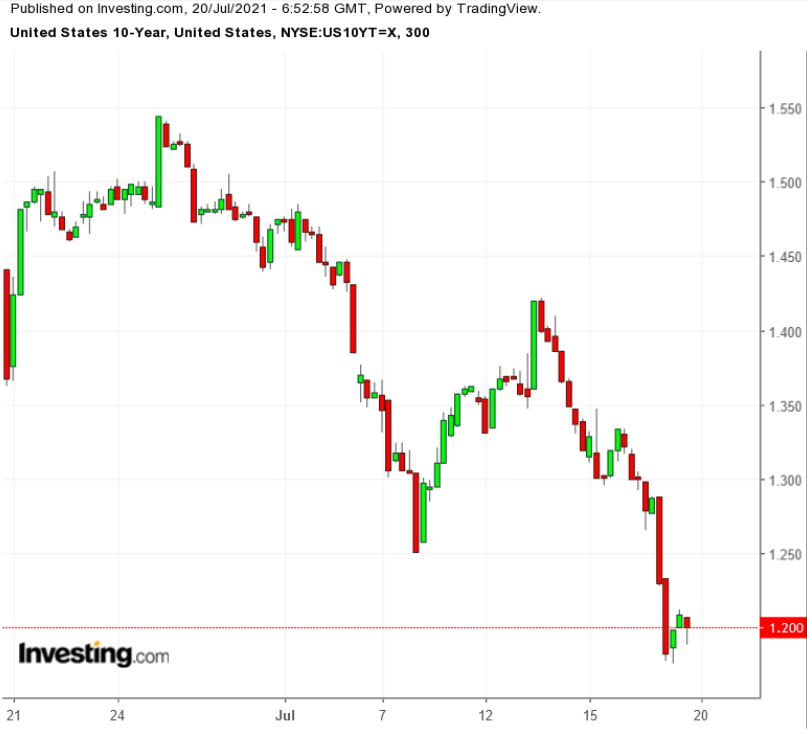 At the same time, the yield on the benchmark Treasury note plunged below 1.2% to about 1.18% before recovering in late trading, its lowest level in five months.
Nor was the stock selloff and bond rally confined to the US. Germany's of 30 blue chip stocks was down more than 2.5% while the of leading eurozone stocks was down a couple notches more.
Yield on the German bond, which functions as a benchmark for the eurozone, fell 10 basis points at one point from Friday's minus 0.30%. Even the French bond yield, which had fallen into negative territory on Friday, continued to decline, settling at nearly minus 0.05% in late trading.
Political Wrangling Bullish For Bonds
Germany was by disastrous floods last week, which claimed upwards of 180 lives, and left more than one thousand hospitalized.
The political repercussions could be serious and the finger-pointing has already started. Opposition politicians are demanding the resignation of the Christian Democratic interior minister, Horst Seehofer, for failing to heed flood forecasts. He, in turn, blames local authorities, who are responsible in Germany's federal system for ordering evacuations and other protective measures.
The political turmoil was compounded with an ugly gaffe by the Christian Democratic candidate for chancellor, Armin Laschet, who was caught on camera laughing and joking in the background while Germany's president, Frank-Walter Steinmeier, was addressing the tragedy with appropriate solemnity.
The once in a hundred-year flood, attributed in large part to climate change, was going to boost the environmental Green party in the September national elections anyway, after they had fallen back behind the Christian Democrats in recent polling. That carries its own set of issues for Germany, and the political fallout is sure to continue.
In the US, congressional wrangling over two separate spending packages in the trillions presented a challenge to the Biden administration's ambitious plans. The fate of that agenda has implications for fiscal stimulus but also for Treasury issues to finance unprecedented peacetime debt.
The administration's troubles, as Monday's markets demonstrated, are bearish for stocks and bullish for government bonds. Senate Majority Leader Chuck Schumer, the New York Democrat, is insisting on a floor vote this week to overcome the 60-vote filibuster threshold, but it's uncertain he will be able to get the 10 Republican votes he needs.