Market Indexes:
The market had was up in this holiday-shortened week, with more clarity emerging on the US election, and continued upbeat vaccine news, as another firm reported positive testing results from its vaccine. Small caps led the way, gaining nearly 4% on the week.
The rose to a new high this week, crossing above the 30,000 mark for the first time.
"Stocks closed with solid gains Monday, boosted by another round of positive news regarding the development of COVID-19 vaccines, while extending gains late in the session after The Wall Street Journal reported that President-elect Joe Biden would nominate former Federal Reserve Chair Janet Yellen to serve as Treasury secretary in his administration." (MarketWatch)

"Wall Street's main indexes jumped on Tuesday and the blue-chip Dow hit a record high as the formal go-ahead for President-elect Joe Biden's transition to the White House ended weeks of political uncertainty. All the 11 major S&P indexes were up, with economically-sensitive sectors such as banks, industrials and energy leading gains as investors rotated out of technology heavyweights that were seen as safe bets during the recession. The U.S. federal agency that must sign off on the presidential transition told Biden on Monday that he can formally begin the hand-over process." (Reuters)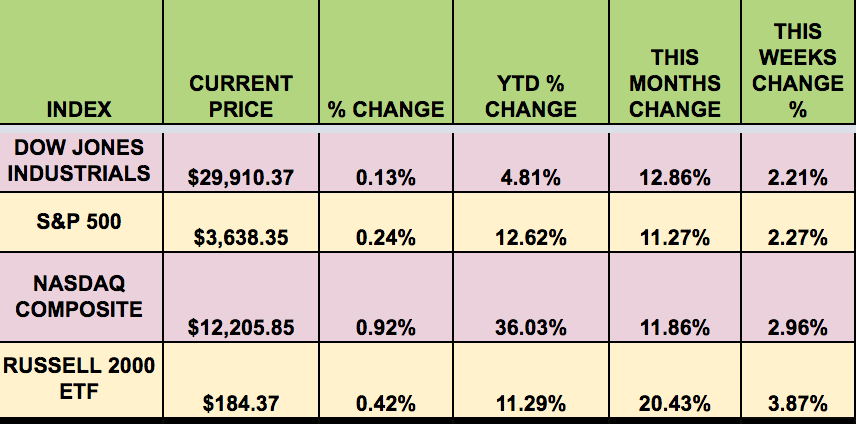 Worried about dividend cuts? You can replace lost dividend income with option premiums, with much higher yields. You can find a wide array of high yield options trades on our Public Cash Secured Puts Table and our Public Covered Calls Table.
Volatility: TThe fell 12% this week, ending at $20.84.
High Dividend Stocks: These high dividend stocks go ex-dividend next week: FFBC, PBY, SPKE, TFSL, NAT, FDUS.
Market Breadth: 23 out of 30 stocks rose this week, vs. 20 last week. 74% of the rose, vs. 76% last week.
FOREX: The fell vs. most major currencies this week, except for the .
Economic News:
"Sales of new U.S. single-family homes fell in October, though remaining at higher levels amid record low mortgage rates and demand for more space as the COVID-19 pandemic drags on.

New home sales dipped 0.3% to a seasonally adjusted annual rate of 999,000 units last month, the Commerce Department said on Wednesday. September's sales pace was revised higher to 1.002 million units from the previously reported 959,000 units." (Reuters)

"U.S. consumer spending increased solidly in October, but the momentum is likely to slow as surging COVID-19 infections and the loss of a weekly unemployment subsidy for millions of Americans weigh on income.

Consumer spending, which accounts for more than two thirds of U.S. economic activity, rose 0.5% last month after increasing 1.2% in September. Personal income fell 0.7%, reversing a 0.7% gain in September." (Reuters)

"The number of Americans filing first-time claims for jobless benefits increased further last week, suggesting that an explosion in new COVID-19 infections and business restrictions were boosting layoffs and undermining the labor market recovery. Initial claims for state unemployment benefits totaled a seasonally adjusted 778,000 for the week ended Nov. 21, compared to 748,000 in the prior week, the Labor Department said on Wednesday." (Reuters)

"The second of three estimates on U.S. growth for the July-September quarter was unchanged at a record pace of 33.1%. But a resurgence in the coronavirus is expected to slow growth sharply in the current quarter with some economists even raising the specter of a double-dip recession. Bigger gains in business investment, housing and exports were offset by downward revisions to state and local government spending, business inventories and consumer spending." (Washington Times)

"Tightening grain supplies and strong demand from China have increased prices for soybeans and corn in the United States by a third since early August. Wheat prices are up by 22% on the back of an increase in baking. The rally marks a sharp reversal in fortunes for the U.S. agricultural economy after four years of global surplus grain stocks that have kept prices low.

Meanwhile, federal payments to farmers are projected to hit a record $51.2 billion this year, contributing to the fastest growth in U.S. farm income in at least nine years. Improving financial conditions have lifted farmer sentiment to a record high." (Reuters)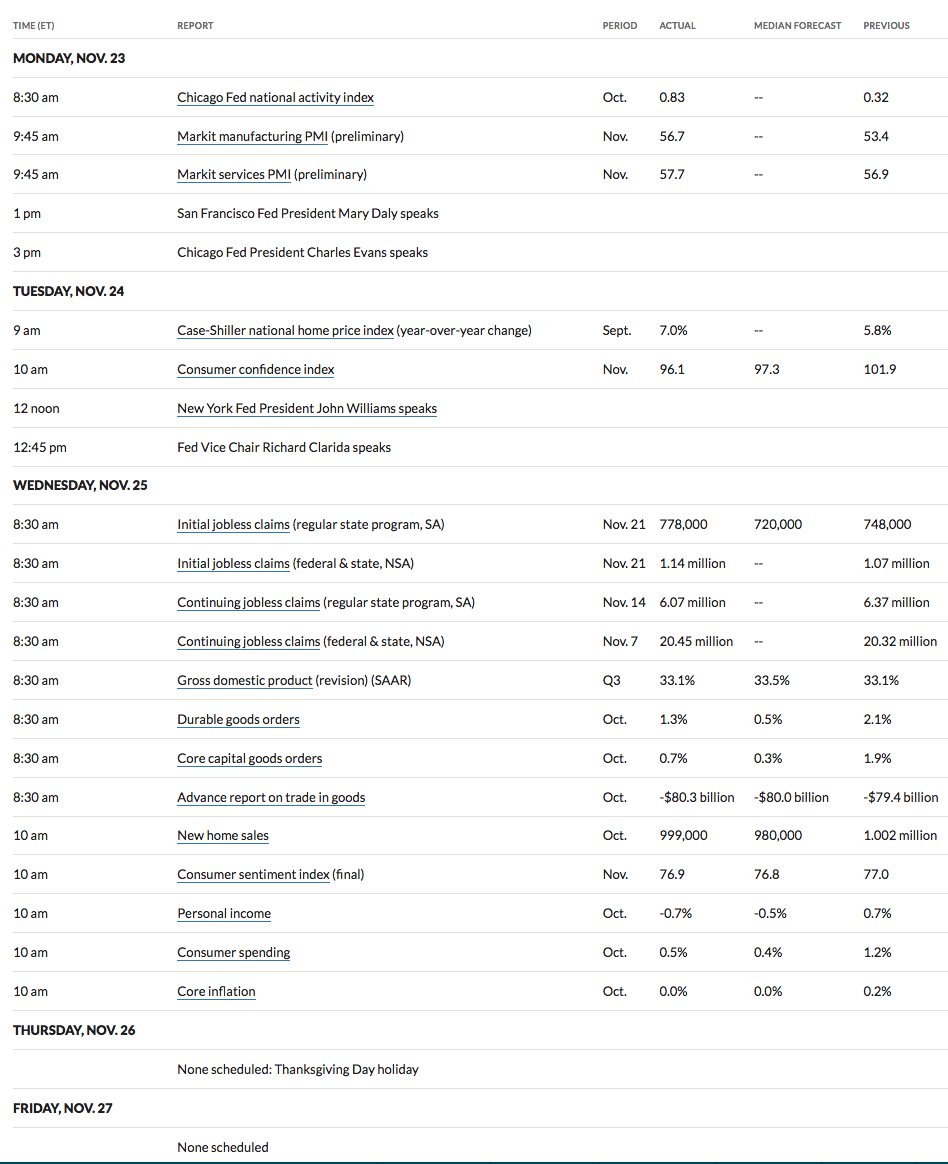 Week Ahead Highlights: The report is due out next Friday am.
Next Week's US Economic Reports:
Sectors: The Energy sector had its 3rd straight positive week, rising 8.7%, and leading all sectors, with Real Estate lagging.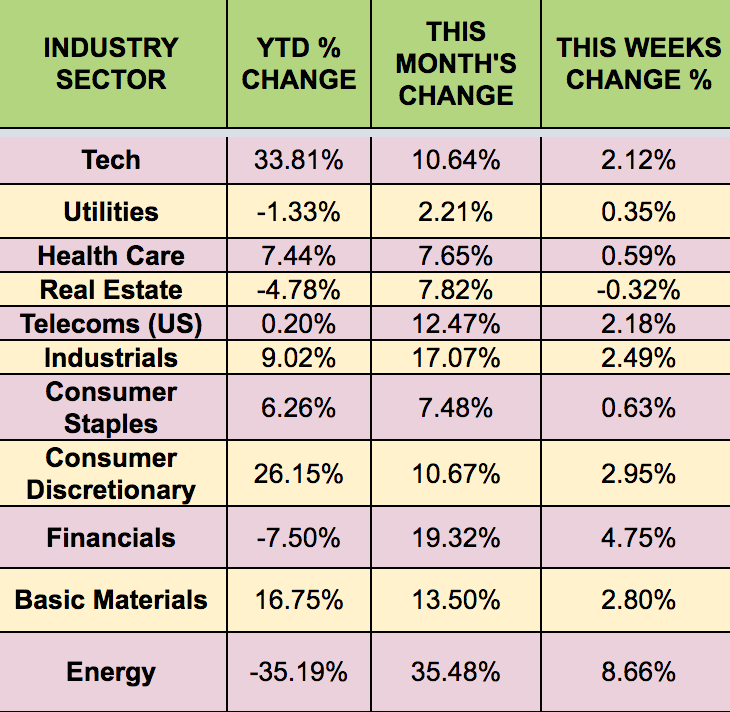 Futures:  rose 7.3% this week, ending at $45.52. rose 7.58%.