Pound soaring on soft Brexit hopes or new referendum
The is tearing higher on Tuesday as we await another vote in Parliament tomorrow – albeit not on May's deal, again. The decision comes as the opposition Labour Party threw its support behind a second referendum if it couldn't get its own Brexit deal over the line and Theresa May opened the door to an extension, having failed to secure amendments with the EU in time for tomorrow's vote.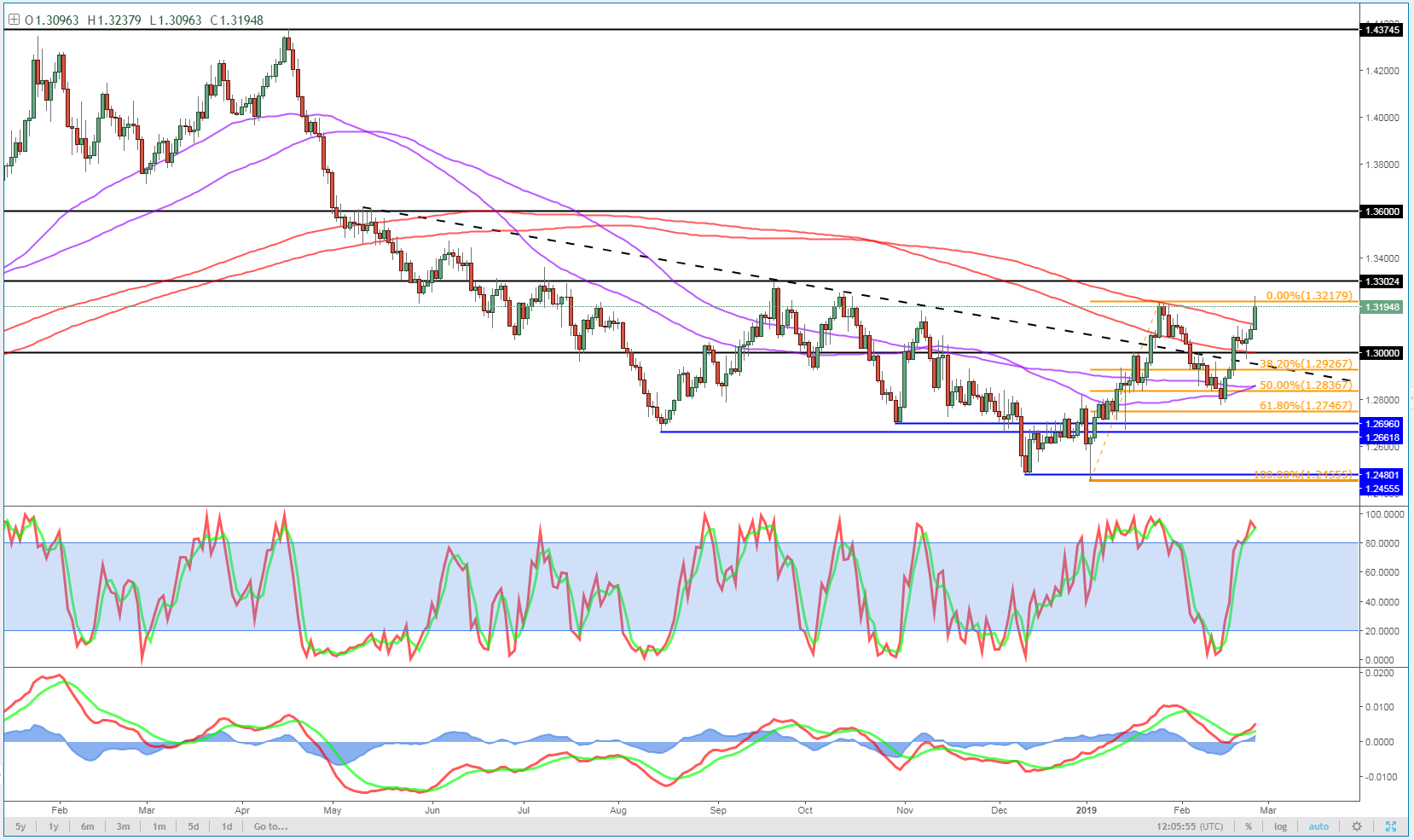 These are all bullish scenarios for the pound, despite remaining the unlikely options, not only for what they put on the table but also for who they put pressure on. The ERG – a group of hardline Brexiteers – many of whom favor a harder Brexit and some no-deal, will not be pleased with the recent developments with another referendum jeopardizing the whole process and an extension threatening it. That may force them to reluctantly support May's deal when push comes to shove.
Gold stumbling around multi-year highs
has traded relatively flat in recent days, with softness in the not propelling it higher on this occasion. Perhaps this is a sign that gold has become a little overbought and is prone to a correction, which wouldn't come as a surprise with the yellow metal has been on a solid run since the summer and suffered only two negative weeks in the last ten. We also have to remember that we've only traded above $1,350 on a handful of occasions over the last six years and haven't broken $1,400 since September 2013 so we are around the more recent highs already.
That's not to say that I expect a sharp reversal here, in fact, long term I think conditions remain favorable. But in the near-term, some softness wouldn't surprise me or be too concerning. We're seeing some support around $1,320 but we've hardly seen much of a bounce off this level, a move below towards $1,300 could provide an interesting test. This held earlier this month and could offer a big test for gold but even a break below here shouldn't spread and panic about prices longer term.
Oil sell-off a sign of overbought market
prices have stabilized after Trump-inspired sell-off on Monday, as the U.S. President once again complained about high oil prices and urged OPEC to "relax and take it easy". Trump has never been shy about voicing his opinions on oil prices but this particular tweet came at a time when the market was quite overextended to the upside having enjoyed a very good run since late last year.
This is probably, therefore, more a reflection of the market positioning that an interpretation that an intervention is coming. OPEC has not previously been deterred from cutting output in response to low prices, as we saw again late last year, and the levels we're currently seeing are more a reflection of the record U.S. output, among other things. Still, it does suggest bulls are happy to cash in near-term which may signal that there's more potential for downside. If we do see the corrective move, then $60-61 in and $50-51 in WTI could be very interesting levels.