Stocks are off their worst levels of the morning, with the SPDR S&P 500 (NYSE:) trading lower by around 60 bps and the NASDAQ 100 (QQQ) down about 90 bps. The decline follows a post-earnings hangover with Apple (NASDAQ:), Facebook (NASDAQ:) and Amazon (NASDAQ:) all trading lower by roughly 1 to 4%. The results weren't bad, the expectations may have just been unachievable, and with the stocks all having such a big weighting in the indexes, the result is a lower market.
(SPY)
The S&P 500 fell below 3,300 again on the futures, which is likely to be a resistance level throughout the day again. With only three trading days left until the election, there could be a moment of reckoning coming for the market. A failure to advance beyond 3,300 sets up a potential scenario where we are testing support around 3,200. Whether it's today or next week, I don't know.
Apple
Apple is trading lower by around 4%, but I mean, really. The fact the company missed iPhone sales in the quarter shouldn't be a shock. Anyone looking for a new phone last quarter was likely waiting for the release of the 5G phone cycle. Outside of the iPhone, services and wearables had solid quarters and still helped the company deliver a top and bottom-line beat. It seems like those parts of the business are firing on all cylinders, and with a coming 5G ramp-up, the company should be able to drive topline growth. I wrote up more about this in a Forbes story last night. (Despite A Post-Earnings Plunge, Apple's Future Is As Bright As Ever)
A drop below $110 does setup a drop back to the September lows.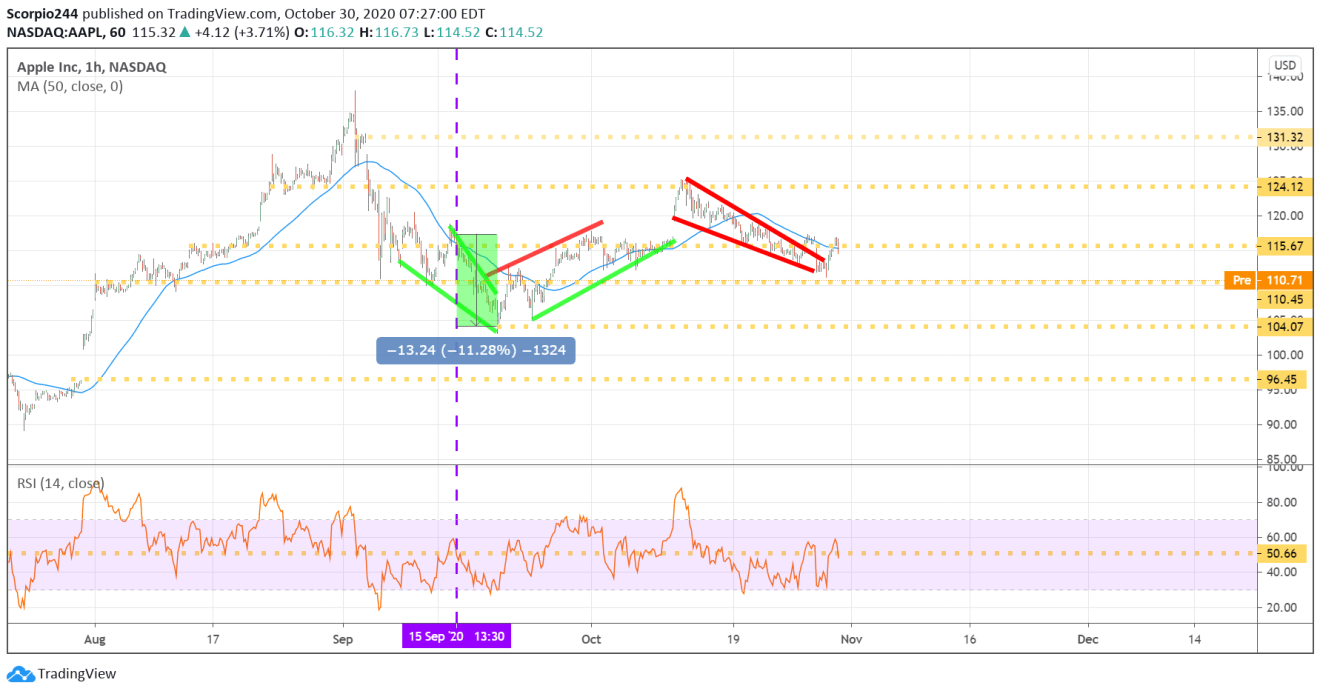 Amazon
Amazon's results were also impressive, but the AWS revenue appears to have missed the upper end of the expectations. Unfortunately, this is just a case of not being good enough. I think given that Amazon's stock trades at such a premium, expectations were probably for a beat everywhere, no different than what we saw in Microsoft (NASDAQ:). The difference between the two companies is that Microsoft is a little bit more diversified. AWS provides nearly 60% of Amazon's operating income. You can read more here- (Amazon's Stock May Drop Further Despite Big Earnings Beat)
As long as the stock holds $3,110, it should be fine. Otherwise, there is room to fall to around $2,870.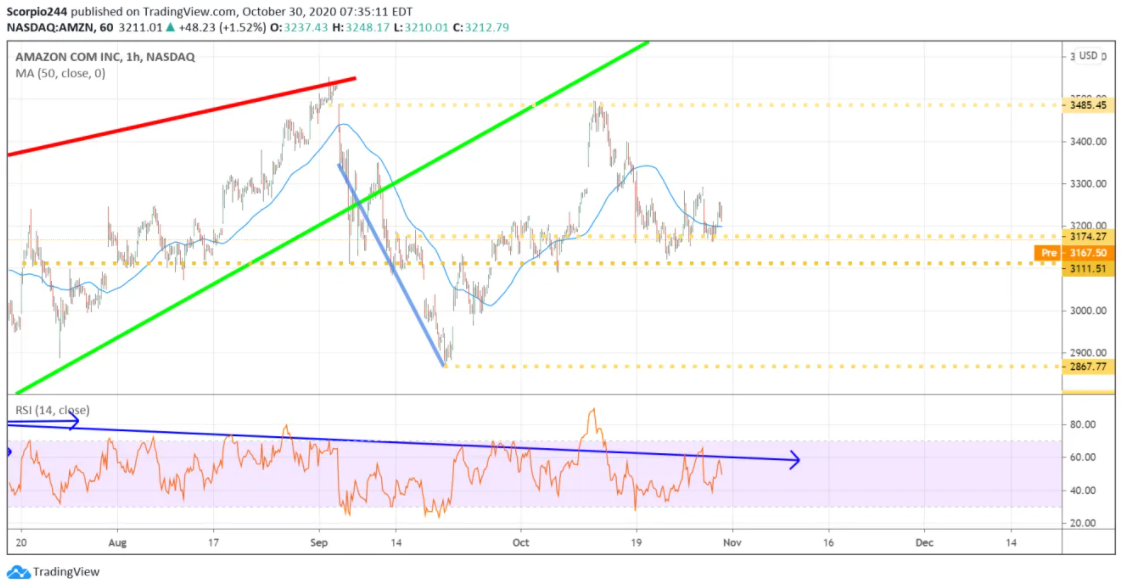 Alphabet
Alphabet (NASDAQ:) reported great results, too, and itwas hard to find anything wrong there. The Hedge Fund unit had an amazing quarter, helping to really boost those earnings. Unrealized equity market gains of $1.9 billion and $135 million in performance fees boosted earnings by $2.03 per share! Wow! The stock is trading higher by over 6%. The next big level of resistance comes at the all-time highs.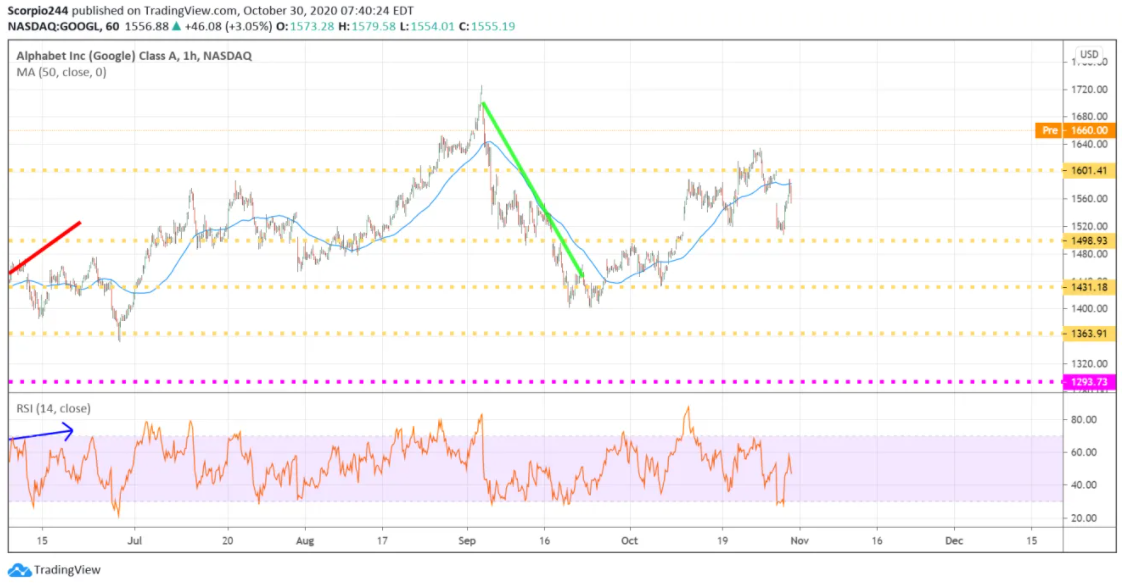 Facebook
Sorry, no update on Facebook. It was after 11 p.m. and was too tired to look at. The stock is really not doing much of anything anyway. Maybe later.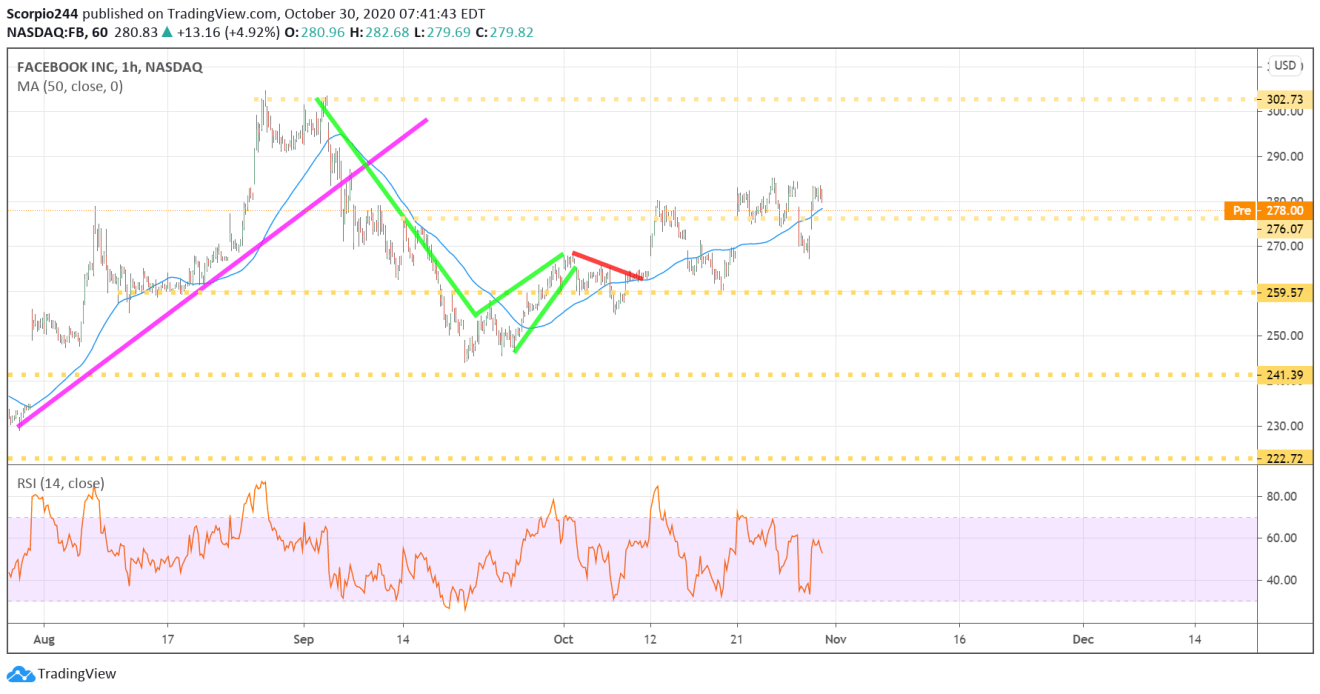 Exxon
Exxon (NYSE:) reported better-than-expected results and, hopefully, this one is finally starting to turn the corner. The technicals do suggest it is. The turn in the RSI is usually a huge positive; we will see. I mean, can Zoom (NASDAQ:) really have a bigger market cap than Exxon? Come on, $36.25.