Stack Funds suggests several causes for the latest price surge.
Key Takeaways
's market value rose above $18,300 this week, the highest since 2018.
Various factors may be responsible, from PayPal's (NASDAQ:) introduction of Bitcoin trading to news of a COVID-19 vaccine.
Bitcoin's block reward halving, which reduced inflation in May, could also be causing a "supply crunch."
According to data from market aggregators and analytics firms, Bitcoin's price rose above $18,300 this week due to a "supply crunch."
Bitcoin Rises 14% in One Week
Stack Funds, which monitors the crypto market, says that this price is a three-year high for Bitcoin. It also notes that the price increase has generated 14% return for investors in a single week.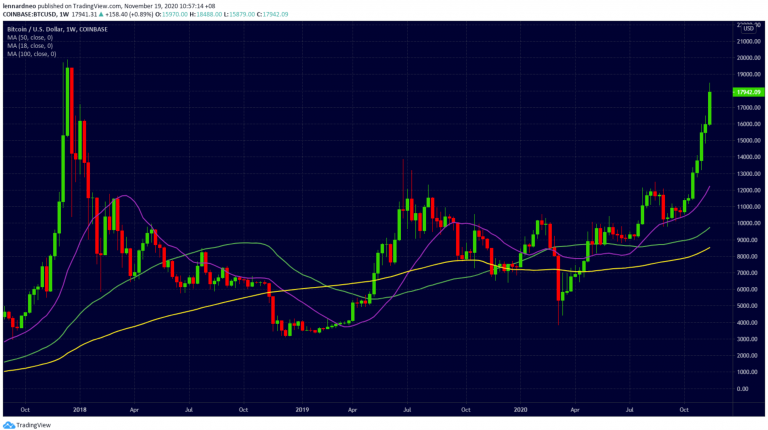 In technical terms, Stack Funds notes that three-month, 25-day skews have broken below 20% and that call option prices are greater than puts.
It concludes from this data that market sentiment "has remained optimistic."
The firm also believes that "upside premium is robust," meaning that prices are unlikely to fall soon. Bitcoin previously reached $17,000 on Nov. 17, marking the early stages of this week's surge.
What Caused This Week's Price Surge?
Stack Funds believes that this price surge is similar to Bitcoin's 2017 bull run, when the coin's price briefly touched $20,000. It notes that a "supply crunch" is partially to credit for Bitcoin's rising prices this year.
The firm adds that "it is evident that [the] balance sheet of [Bitcoin] is running thin." By some measures, Bitcoin is being sold off by exchanges at a rate of 214 BTC per hour, and exchanges have just 1.2 million BTC on hand.
This is partially due to May's block reward halving, which reduced miner rewards and slashed inflation.
Possible news of an effective COVID-19 vaccine may also contribute to rising prices. Stack Funds notes that the stock index gained 1.1% over the past week, while remains stable. The fact that those markets have performed positively makes it likely that vaccine news has encouraged Bitcoin investors to buy as well.
Finally, this month also featured a major adoption event: PayPal's decision to introduce Bitcoin trading.
Though PayPal has not revealed its trading volumes, the company decided to double its buying limits within days—a sign that demand for Bitcoin is truly on the rise.