Tesla (NASDAQ:) is up over 13% in pre-market trading today after news of its scheduled inclusion in the S&P 500 index on December 21st. The stock's phenomenal rise since the COVID-19 crash led the company to a market cap of over $400 billion. This makes it much bigger than established rivals such as Volkswagen (DE:), Toyota and Audi, not to mention Ford and GM.
The way investors treat Tesla stock is similar to the way was treated back in 2017. Some say the company is revolutionary, while others say it is a bubble. Well, we think it is both.
Tesla and its charismatic CEO almost single-handedly forced other auto-makers to take EVs seriously. Electric vehicles were dismissed as a joke by the big auto companies 15 years ago. Now, every major manufacturer is investing billions in their own EV projects. His other companies aside, SpaceX and Tesla make Elon Musk probably the greatest visionary of our time.
Taking Investors' "Animal Spirits" into Account
The problem is that Tesla's market cap is twice as big as Toyota's, while its revenue is ten times smaller. The market is forward-looking, but in that case we think it is picturing an impossibly rosy future. Since we think we cannot rely on reason when it comes to Tesla, we need a tool that takes emotion into account. That is where Elliott Wave analysis comes to the stage.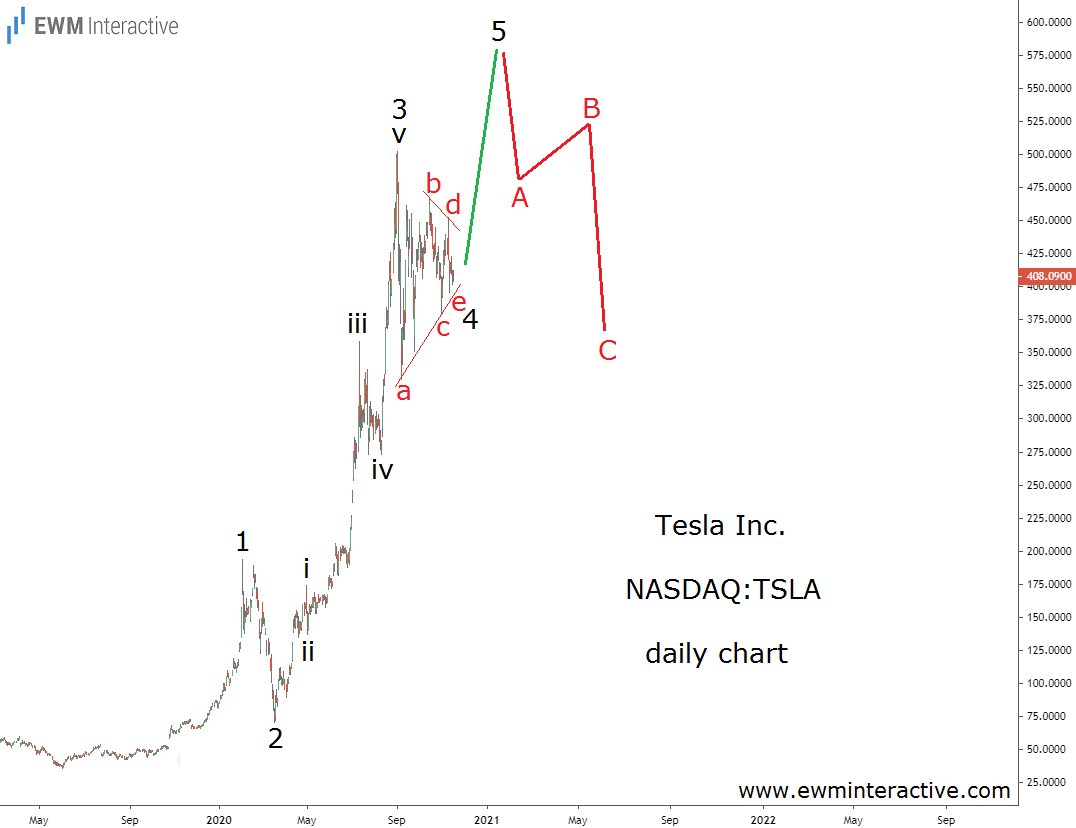 The chart above reveals TSLA's spectacular surge since June, 2019, when its current cycle began. The rise from $35.40 to $502.49 can be seen as a five-wave impulse, whose wave 5 is still missing. The pattern is labeled 1-2-3-4 so far. The five sub-waves of wave 3 are also visible and wave 4 is an a-b-c-d-e triangle correction. Given today's pre-market rally, it seems that a new record in wave 5 is only a matter of time.
Unfortunately for the bulls, the theory states that a three-wave correction in the opposite direction follows every impulse. So, instead of celebrating the new all-time high, investors should brace for a major bearish reversal. Targets near $600 a share seem plausible, before the bears drag Tesla back to the support of wave 4 near $350.
Tesla is Overvalued Even in a Best-Case Scenario
In fact, even at that price, the company would still be extremely overvalued. Let's assume Tesla does everything right and reaches Ford's sales one day. Let's say Tesla's revenue climbs to $150 billion and the company has a 15% profit margin. By the way, even in a strong year, none of the leading car-makers has a 15% profit margin.
So, under this scenario, Tesla makes a $22.5B after-tax profit per year. This makes it the most profitable car company in the world ever. Now, let's attach a P/E ratio of 15 to those profits, which is still higher than the average for the auto industry. $22.5B times 15 gives us almost $340 billion for the entire firm. It turns out that even in the best-case scenario, Tesla cannot justify its current valuation of over $400 billion. Besides, it now faces fierce competition from companies with much deeper pockets.
We, at EWM Interactive, are big fans of Elon Musk and everything he does. For the sake of humanity, we strongly hope he succeeds. However, in order for investors to be successful, they cannot allow their sympathies for someone to dictate their capital allocation decisions. The truth is that no trend lasts forever, no matter how much you root for it to continue. Reality always strikes back, eventually. Tesla will be no exception.