This article was written exclusively for Investing.com
Mega-cap stocks appear to have become more than just a bet on growth, but a place to park money during uncertainty. Stocks like Apple (NASDAQ:), Amazon (NASDAQ:), Microsoft (NASDAQ:), Facebook (NASDAQ:), and Alphabet (NASDAQ:) not only have healthy revenue and earnings growth profiles, but they provide plenty of cash flow too.
Perhaps more important, these companies are the dominant force in their respective sector. This means that even during a challenging economic period, these companies can continue to thrive. The notion has sent investors flocking into the mega-cap stocks.

It isn't just fundamentals that drive investors into these mega-cap stocks; it is their sheer size. For example, Apple and Microsoft are the two largest stocks by market cap in the US. They are also the most significant components of indexes, including the . It is hard for the S&P 500 to rise or fall without them participating or perhaps even leading the way.
Meanwhile, companies like Amazon have been one of the biggest beneficiaries of the current economic period. The pandemic has been a tremendous pull-forward of e-commerce. The trend was already favorable to Amazon, but due to the coronavirus, Amazon has seen its revenue explode over the past few . The company had revenue growth of 40% in the second quarter and more than 37% in the third quarter.

Alphabet saw revenue decline by around 2% in the second quarter, falling to $38.3 billion. However, revenue recovered quickly, rising by more than 14% versus $46.2 billion last year. In comparison, for the company soared by over 52% to $16.40 per share.
While many companies have struggled to make it through this tough economic time, these mega-cap stocks have, for the most part, thrived. While some of the stocks do come with greater volatility than what most would expect in a safe-haven asset, not all do.
Data from Refinitiv shows that Alphabet has a 5-year beta of just 1.03, which means it trades with nearly the same amount of volatility as the S&P 500. Meanwhile, Microsoft has a 5-year beta of 0.87. So in some of these cases, the volatility profiles are less than one might think.
However, stocks like Amazon, Apple, and Facebook, trade with more significant volatility, carrying beta's closer to 1.3.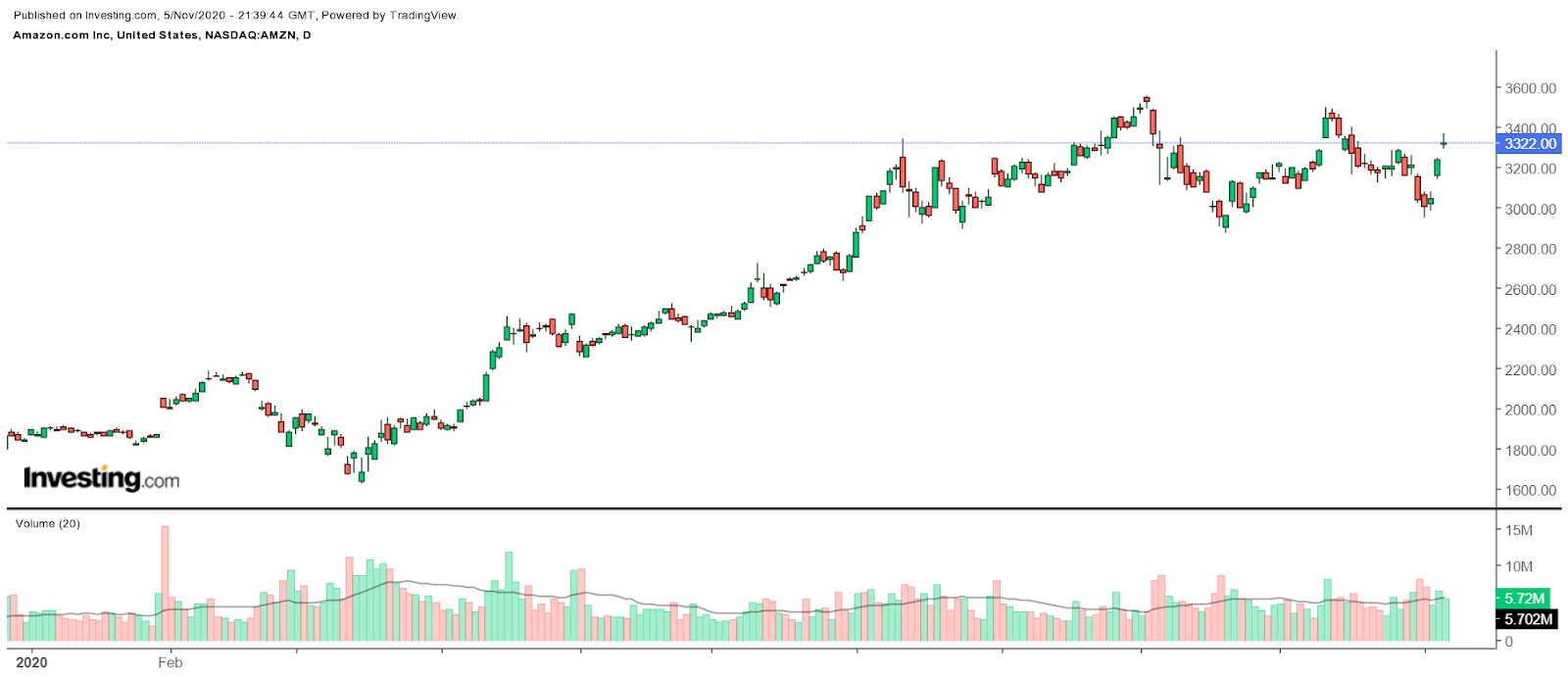 While it is tough to compare these stocks to utility or health care names, which typically serve as defensive sectors. The one advantage the traditional defensive sectors may offer is the bigger dividend payments, which the mega-caps lack.
However, it is also worth noting that a significant dividend can add risk during times of economic uncertainty. If a company's profitability weakens enough, it could put future dividends into question. This may be another reason why some of these more traditional sectors have struggled in 2020.
The mega-cap stocks appear to have taken on a defensive roll in 2020, offering investors a port during turbulent times. Given their performance this year, it seems to have been a bet that has paid off.
Micheael Kramer and the clients of Mott Capital own shares in Apple, Google and Microsoft