Yields on US Treasuries took a dive on Wednesday as the prospect that Republicans will keep control of the Senate, even if President Donald Trump doesn't win re-election, dimmed hopes that a large stimulus package will be coming out of Congress.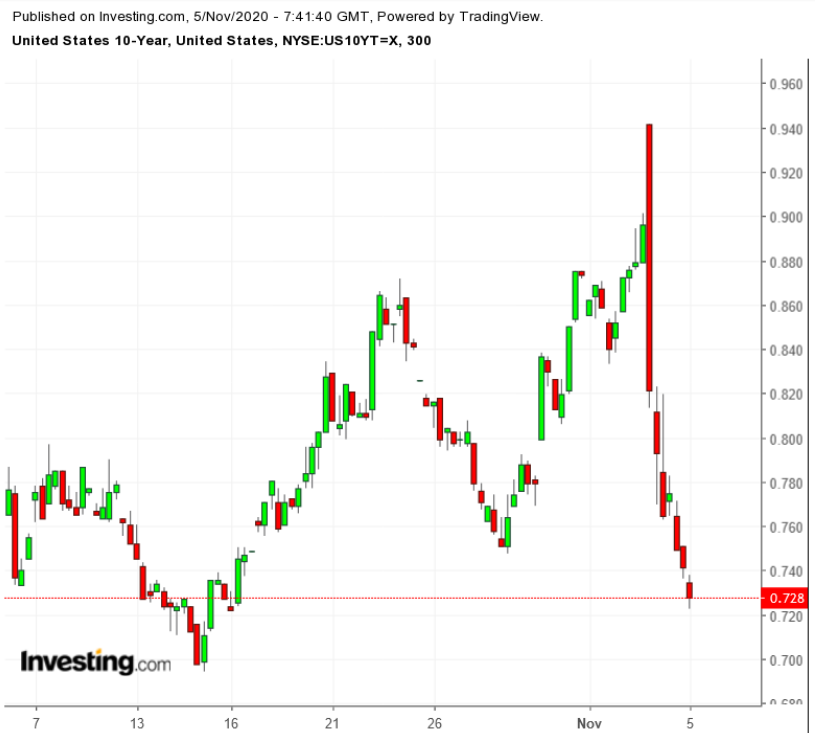 The benchmark Treasury note yield plunged below 0.8% after hitting 0.892% on Tuesday, before election results were available, and shooting briefly above 0.9% early in the evening.
Investors rushed back into government bonds—prices move inversely to yields—as stimulus hopes faded and uncertainty over the outcome of the presidential race had them running for cover.
The bond spiked above 1.75% on Tuesday, but then fell more than 20 basis points on Wednesday, to less than 1.55%.
The White House race pitting Trump against Democratic challenger Joe Biden came down to razor thin margins in a handful of swing states that could give one of the candidates an Electoral College majority of 270.
A number of Republican senators considered vulnerable managed to fend off strong challenges, so that it seems certain the party will retain a majority in the Senate, and control of legislation there, even if that margin narrows to 52 or 51 from the current 53. Majority leader Mitch McConnell won re-election in Kentucky, so he will keep his position when the new Congress convenes in January.
A Democratic sweep of the presidency and both houses of Congress failed to materialize, however, as Republicans also seem poised to make gains in the House of Representatives, even though Democrats will retain control. The so-called blue wave trade based on that sweep unraveled on Wednesday and drove much of the move into Treasuries.
Aside from reduced hopes for fiscal stimulus, a divided government would likely block the $2 trillion in green energy spending proposed by Biden, even if he wins the presidency. Meanwhile, staged a strong rally as a Republican-controlled Senate ensured no new taxes and no carbon tax.
A protracted contest for the presidency could boost Treasury prices further and drive down yields. The Trump campaign is already calling for a recount in Wisconsin, where Biden appears to have won with a margin of less than 1%, and is suing to stop counting ballots in Michigan and Pennsylvania until Republican observers have access. The president has suggested the vote could end up before the Supreme Court, as it did in the contested 2000 election.
That kind of uncertainty keeps investors on edge and makes them likely to seek the safe haven of Treasuries.
In the meantime, investors are also keeping an eye on economic performance as concern mounts that a resurgence of the COVID-19 pandemic in Europe and the possibility of new restrictions in the US will impact economic data and slow growth. The report last week that third-quarter grew at a 33% annual rate had raised expectations that the US economy was bouncing back.
Federal Reserve policymakers, on Wednesday and Thursday because of the election, will have to deal with the prospect of less stimulus. Calls by Fed Chairman Jerome Powell for generous fiscal aid have fallen on deaf ears in the Republican Senate, leaving the central bank to deal with a slowing economy through monetary policy. That is another prospect pushing down yields on the government bonds.