With less than a week to go before the highly anticipated U.S. presidential election, the market could be a bit more , especially if the outcome is not immediately clear.
Regardless of who wins, these three stocks are in a strong position to gain:
1. Rockwell Automation
Rockwell Automation (NYSE:), which provides industrial automation and information services, has seen its shares outperform the broader market this year, climbing around 17%. Even more impressively the shares have more than doubled (+105%) from their mid-March bear market low.
Regardless of a Trump or Biden victory, the Milwaukee, Wisconsin-based industrial equipment and software maker is likely to be a key beneficiary of any post-election stimulus bill aimed at boosting economic activity in the wake of the ongoing coronavirus pandemic.
Rockwell's stock closed at $236.88 on Tuesday, not far from an all-time high of $251.95 reached Oct. 16. It has a market cap of roughly $27.5 billion.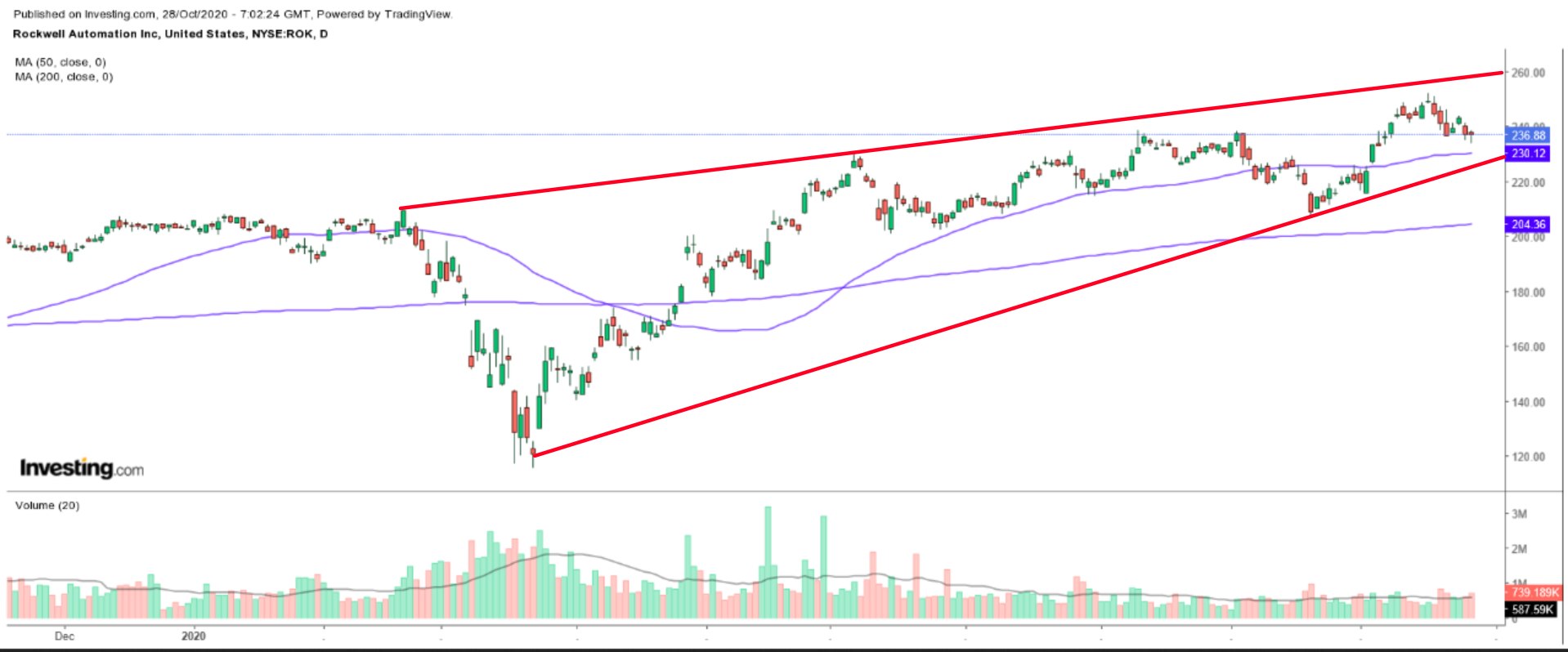 The company reported solid fiscal results in late July, beating earnings and revenue expectations, despite the uncertain economic environment brought on by the COVID-19 pandemic.
The information technology provider—which has topped earnings and revenue estimates for four straight quarters—next reports financial results before the U.S. market opens on Tuesday, Nov. 10.
While the top- and bottom-line figures are both expected to have fallen sharply from the year-ago period, the numbers are likely to have improved from the preceding quarter, given the modest economic recovery.
Consensus calls for earnings per share of $1.75 for its fiscal fourth quarter, compared to EPS of $1.27 in the last quarter. Revenue is forecast to clock in at $1.58 billion, rising almost 14% quarter-over-quarter from $1.39 billion. These figures compare to earnings of $2.01 per share a year ago on revenue of $1.73 billion.
Market players will also focus on Rockwell's outlook for the rest of the year and beyond. It raised its full-year fiscal 2020 EPS guidance to a range of $7.40 to $7.60 in its last quarter, up from a previous range of $6.90 to $7.70.
2. Pfizer
Pharmaceutical giant Pfizer (NYSE:) is one of the frontrunners in the race for a COVID-19 vaccine. The company is working alongside German drugmaker BioNTech (NASDAQ:) to develop its vaccine, which is currently going through late-stage clinical trials in the U.S.
The New York-based corporation reported on Tuesday that nearly 36,000 people have already received a second vaccination in the phase 2/3 clinical trial that has 42,000 participants.
Speaking to shareholders on the company's call, CEO Albert Bourla noted that new vaccine data was scheduled to come out by the end of October. However, that information will not be released until Pfizer's data and safety monitoring board conducts its review of the drug, most likely in the second half of November.
No matter who wins the election, rolling out a nationwide vaccination program to ensure people are safe from the coronavirus is something both candidates can agree on.
The stock, which is down 4.5% in 2020, settled at $37.43 yesterday. It has a market cap of nearly $208 billion.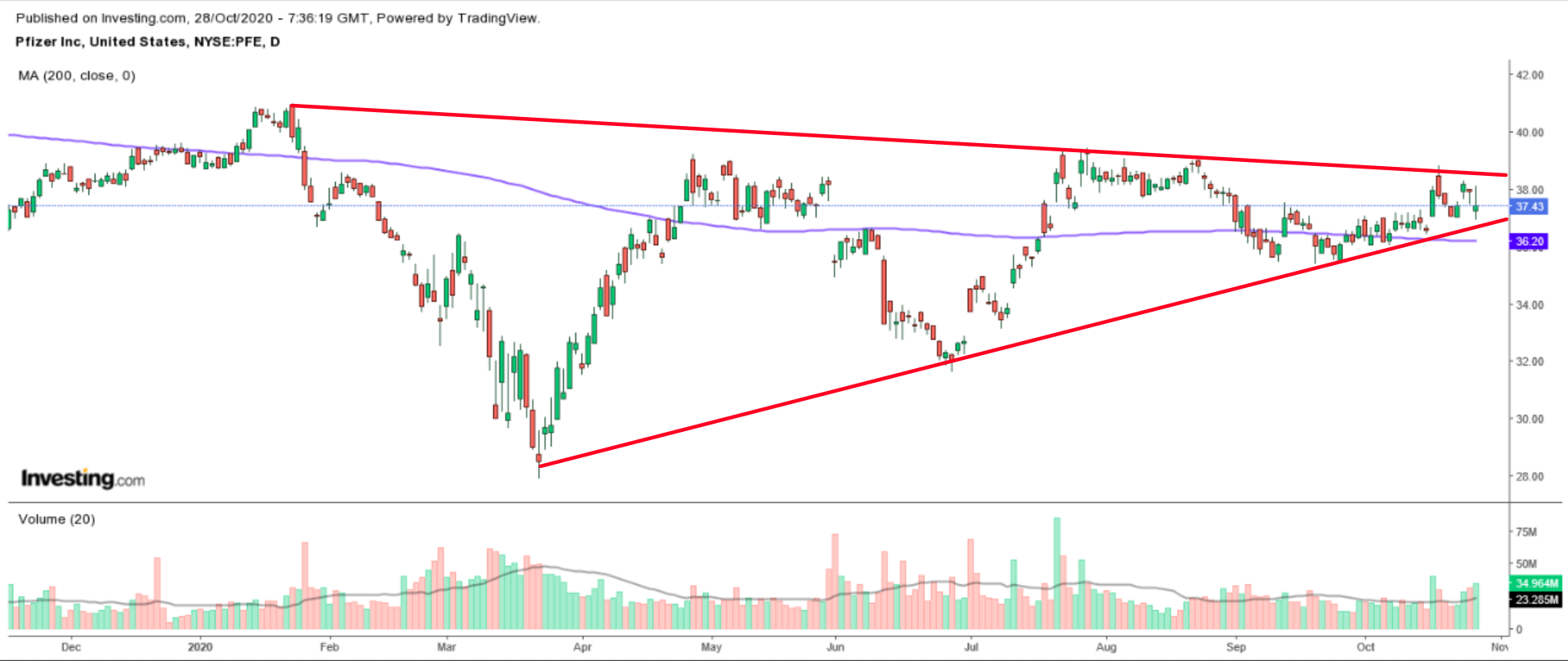 Pfizer reported third quarter of $0.72, beating estimates by a few cents. Revenue, however, fell 4% to $12.13 billion from a year earlier, missing forecasts of $12.31 billion, as the global pandemic crimped demand for certain therapies.
The pharmaceutical firm now expects full-year earnings in the range of $2.88 to $2.93 per share, with revenue in the range of $48.8 billion to $49.5 billion.
Commenting on the uncertain political landscape, Bourla called the election an "artificial milestone."
He said:
"This is going to be not a Republican vaccine or a Democratic vaccine, it will be a vaccine for the citizens of the world."
3. NextEra Energy
NextEra Energy (NYSE:), which is the largest U.S. provider of renewable energy, has been riding high this year thanks to the growing demand for wind and solar energy.
The Juno Beach, Florida-based utility giant, which approved a four-for-one stock split earlier this month, has been expanding beyond its traditional utility customers. It has been installing wind farms and solar parks for large corporations which want to run facilities with green energy.
As such, it looks primed to continue to benefit from the ongoing shift to clean energy, regardless of the election outcome.
Shares in NEE have jumped by around 25% this year, better than returns on the and the over the same period. The stock, which hit an all-time high of $77.01 on Oct. 12, ended at $75.78 yesterday.
In a symbolic milestone, its market cap, at $148.4 billion, surpassed the largest U.S. traditional energy names, including Exxon Mobil (NYSE:) at $138.7 billion and Chevron (NYSE:) at $133.8 billion.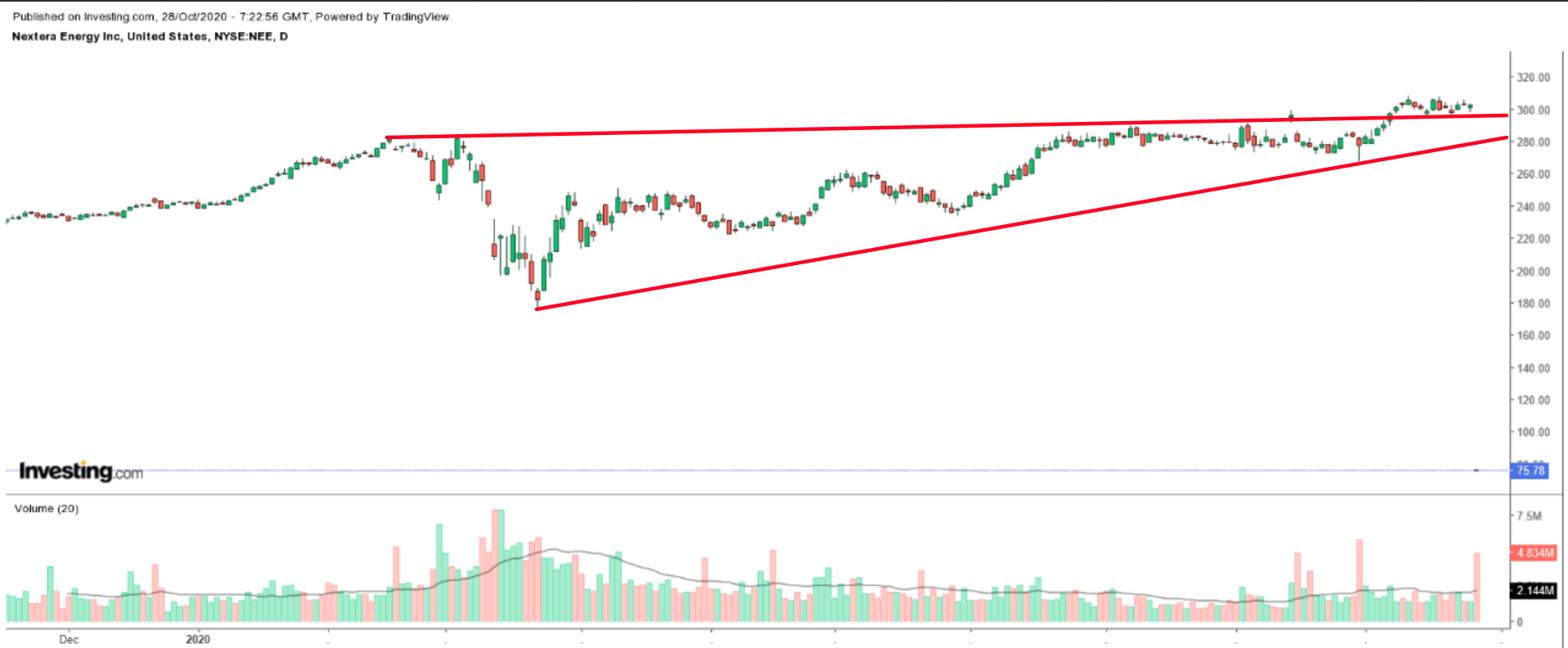 The company reported mixed third quarter results last week, with earnings per share rising 11% from the year-ago period to $2.66. Revenue, meanwhile, declined 14% year-over-year to $4.79 billion. The consensus earnings estimate was $2.59 per share on revenue of $5.44 billion.
More importantly, NextEra Energy raised its guidance for the next few years, citing ongoing strength of the renewables development environment and the continued execution across all of its businesses.
"NextEra Energy delivered strong third-quarter results and remains well-positioned to meet our 2020 and longer-term growth prospects," CEO Jim Robo said in the company's earnings release on Oct. 21.
The world's largest generator of wind and solar electricity now expects to earn between $2.40 and $2.53 per share in 2021, up from previous guidance of $2.35 to $2.48. It also said it expects EPS to grow by 6% to 8% in 2022 and 2023.
Referring to the coming election, management said it was well positioned to be successful regardless of the outcome.
Should Trump win a second term, "we would expect to continue our strong momentum and continued focus on our strategies and execution on them." Vice versa, "if Biden is the new president, he has made clear across his platform that he has strong support for renewables."