It's going to be a rough winter. The resurgence of COVID-19 across the US suggests that the next several months may bring the toughest challenge yet for the country.
On three key fronts—cases, hospitalizations and fatalities—the numbers look uniformly worrisome. The daily changes for each indicate that all three are trending higher—a combination that signals increasing danger ahead for the battle to contain and manage the disease.
On the bright side, vaccine development has come a long way in recent months. Notably, this week's Pfizer (NYSE:) announcement is especially encouraging.
A US rollout of a vaccine may be just months away, perhaps sooner. "By the time we get into December, we'll be able to have doses available for people who are judged to be at the highest priority to get it first," says Dr. Anthony Fauci, the nation's top infectious disease expert.
Vaccines and treatments can't come soon enough now that coronavirus's spread is picking up. The daily change in new reported cases in the US is surging, rising to over 136,000 yesterday (Nov. 10), a record high, based on data from Johns Hopkins University.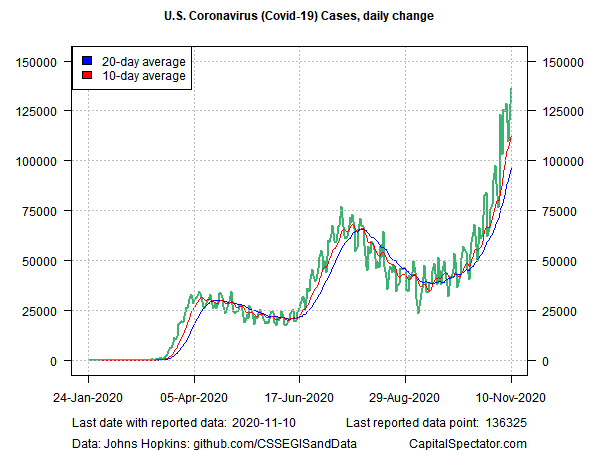 More troubling is the rise in COVID-19-related hospitalizations. The daily change on this front jumped to nearly 2,700 on Tuesday—the highest since July, according to numbers aggregated by The Covid Tracking Project. Given the sharp increase in cases, the trend in hospitalizations looks set to rise further in the weeks ahead.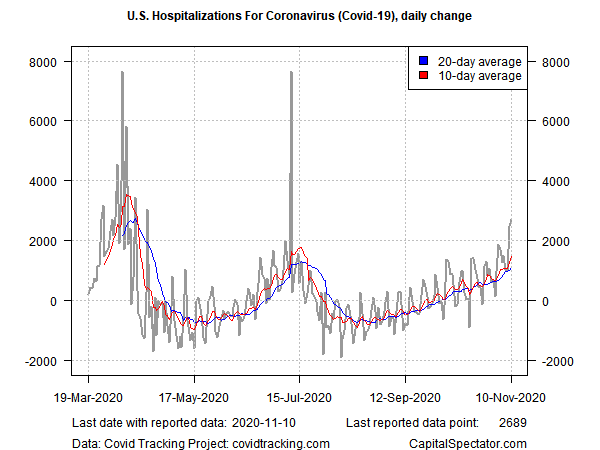 "We have legitimate reason to be very, very concerned about our health system at a national level," says Lauren Sauer, an assistant professor of emergency medicine at Johns Hopkins University who studies hospital surge capacity.
Unsurprisingly, the trend in fatalities is reacting, albeit with a lag. The daily change in deaths had remained relatively low and stable in recent history, but the blowback from higher cases appears to be picking up. New fatalities spiked to over 1,400 yesterday, the highest since July.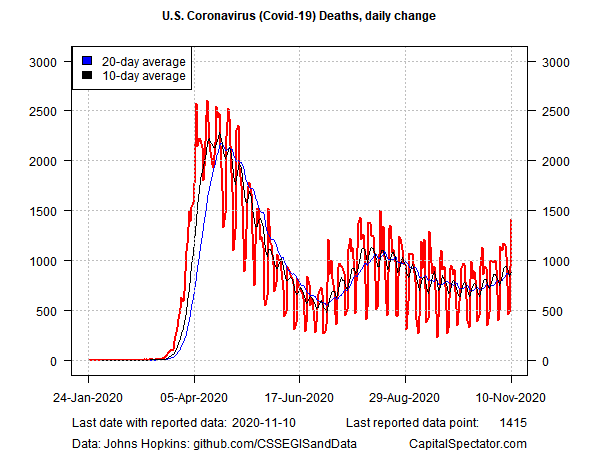 The main difference between the current wave and the first wave in the spring: there are more weapons available to fight the disease. This week, for instance, the US Food and Drug Administration issued an emergency use authorization for Eli Lilly's monoclonal antibody therapy treatment.
But until an effective vaccine is rolled out to American public on a broad scale—perhaps at some point in early 2021?—the risk for the US is rising. Meantime, the sober reality is that this crisis is going to get worse before it gets better.
"If we're not going into the fall with a huge running start in terms of having cases at very, very low levels … we run the risk of having uncontrollable outbreaks," warns Michael Mina, an epidemiologist at Harvard's T.H. Chan School of Public Health.