Reports Q2 results on Wednesday, Aug. 4, after the market close
Revenue Expectation: $3.7 billion
EPS Expectation: loss of $0.54
Uber Technologies (NYSE:) is finding itself in a tough spot these days. While its ride bookings are coming back as the economy reopens, the world's largest ride-hailing service is struggling to win back drivers in the post-pandemic environment.
Analysts, on average, expect the San Francisco-based Uber to report $3.74 billion in sales, up more than 20% from the and 39% more than the same period a year ago.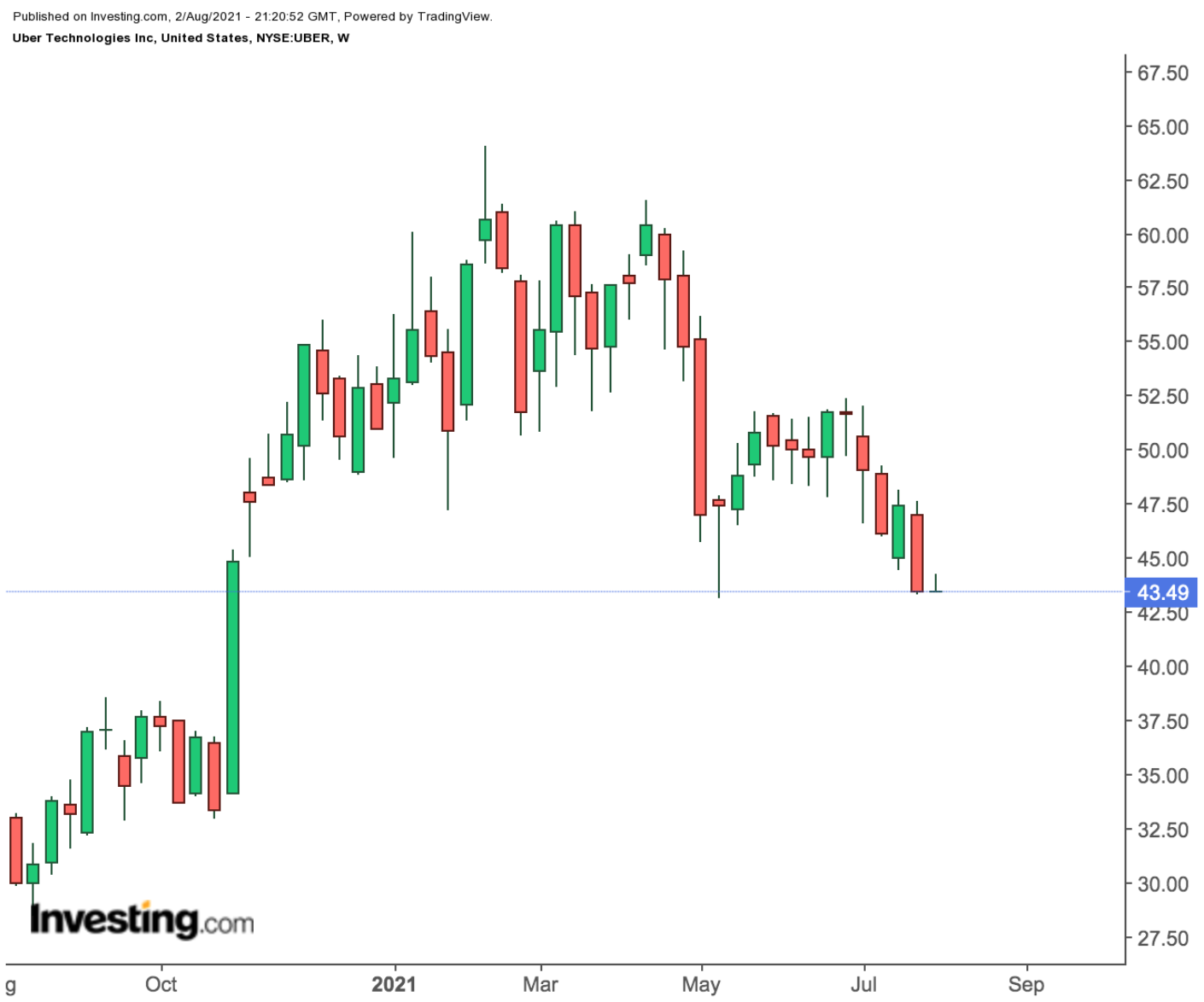 This strong rebound comes after bookings collapsed last year when the rapid spread of the COVID virus forced governments to institute and enforce lockdowns, along with mass closures of businesses and offices.
But as UBER's rides segment comes back, its business equation isn't the same. The transportation services tech platform is spending more on recruiting drivers now and that means wider losses and a longer time until the company sees a profit.
Bonuses and other incentives to get drivers back on the road will reduce Uber's rate taken from fares by about 20% this quarter, the company told investors in May. Uber Chief Executive Officer Dara Khosrowshahi has set a goal for the company to turn a quarterly adjusted profit by the end of the year.
During lockdowns many drivers took other jobs or stayed home when the coronavirus wiped out ride-hailing demand. In April, Uber said it would spend $250 million on bonuses and other recruitment incentives.
Shares Under Pressure
That situation has kept Uber shares under pressure this year. Its stock has fallen 13% during the same period in which the Index gained about 14% year-to-date. UBER shares closed Monday at $43.49.
Adding to the situation: the labor crunch outlook isn't projected to end any time soon. The problem will persist through the third quarter, according to a Wall Street Journal report, further pressuring Uber and its main rival, Lyft (NASDAQ:). Both will have to deal with shifting dynamics of gig labor that they acknowledge will require long-term solutions.
"This is a moment of deep introspection and reflection for a company like ours to pause and say, 'How do we make the proposition for drivers more attractive longer term?'" Carrol Chang, Uber's chief of driver operations for the U.S. and Canada, said in the report. "It is absolutely a reckoning."
Another important aspect of Uber's business transformation during the pandemic was its delivery business, which the company quickly expanded from meals to booze, groceries, packages and prescriptions. Tomorrow's results will provide some insight into whether consumers will continue to stick with UberEats after the pandemic.
Delivery revenue surged during the pandemic, providing crucial support when Uber's ride-hailing services struggled. These sales rose another 28% in Q1 from the prior quarter to $1.7 billion. That's more than triple what it was a year ago.
Bottom Line
There is significant uncertainty surrounding the ride-hailing business model in the post-pandemic environment. Uber has to show that it's able to overcome labor shortages without significantly increasing its costs, while proving it can sustain growth in its delivery business.