Uber Technologies (NYSE:) has finally given investors what they were longing for. The world's largest ride-hailing service now predicts it will achieve adjusted profit earlier than forecast.
Uber's adjusted before interest, taxes and other expenses may range from a $25-million loss to a $25-million profit in the third quarter, the company said in a filing on Tuesday. On that basis, a profit would arrive slightly earlier than previously anticipated. Adjusted earnings in the fourth quarter could range from flat to a $100-million profit.
The San Francisco-based Uber, which went public in 2019, had a rocky 18-month period as the spread of coronavirus forced people to stay home, severely damaging the demand for its rides. But the global health crisis also tested the sustainability of the ride-hailing business and the management's ability to deal with a crisis of this magnitude.
In our opinion, Uber has emerged much stronger after the pandemic and its stock deserves to be a part of any long-term growth portfolio. Uber today is a much more diversified company than it was at the time of its IPO.
Uber, instead of becoming more defensive, used the pandemic as an opportunity to expand further beyond rides. The company in July placed a big bet on freight with the $2.25-billion purchase of Transplace, a technology-focused logistics services provider. The purchase will help Uber extend the ride-hailing giant's reach into the US domestic shipping sector.
In addition, Uber also moved into grocery and alcohol delivery through acquisitions, added package delivery and struck a partnership with GoPuff to ferry convenience store items. Uber has been delivering meals from restaurants since 2014, but the pandemic dramatically accelerated growth of Uber Eats. Gross bookings from delivery orders in the second quarter nearly doubled from the same period last year to $12.9 billion.
Sustainable Profitability
That setup—when rides are coming back and Uber is more broadly involved with the transportation economy—bodes well for its stock, which has underperformed the broader market this year. Uber shares have lost 10% this year, while the tech-heavy gained more than 17%. Its stock closed on Thursday at $45.48.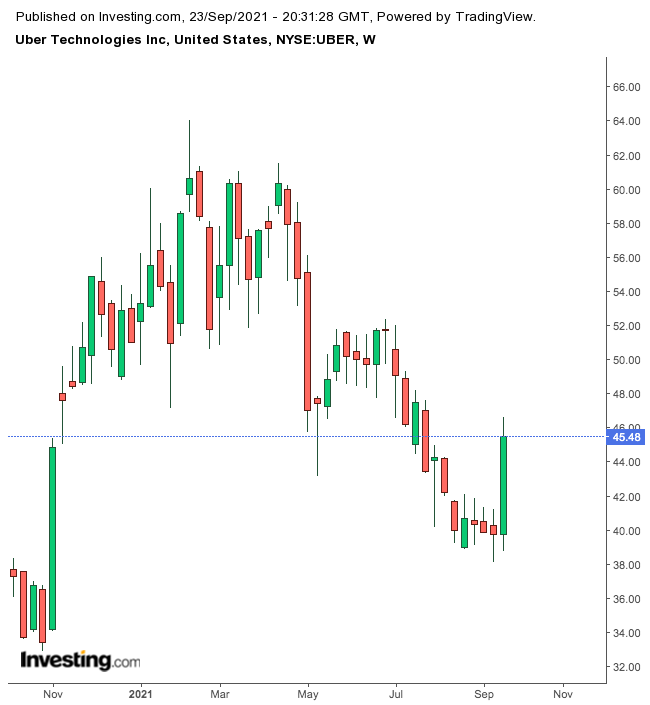 Uber Weekly Chart.
That weak spell, in our view, has run its course as the company expands its margins and reaps the benefit of its diversification push. Some Wall Street analysts also see Uber stock undervalued at a time when it's well positioned to benefit from the economic reopening.
Uber stock has about 47% upside potential from its current level, according to the consensus estimate of 45 analysts Investing.com surveyed.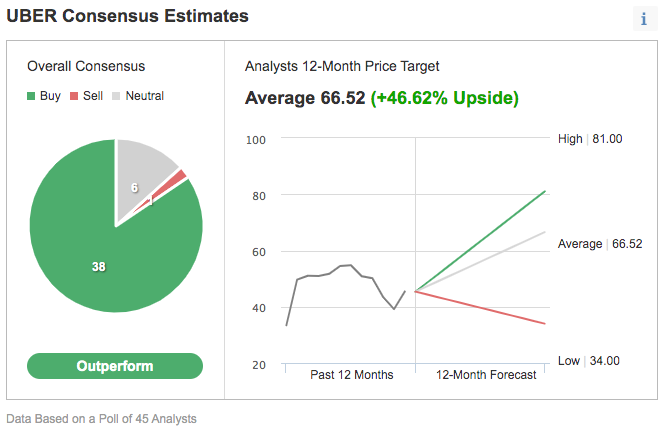 Analysts at Cowen this week reiterated Uber as 'outperform,' raising their price target to a Street high of $82 from $80, citing efficiencies at both mobility and delivery units and tightened 3Q21 gross bookings guidance range.
According to Goldman Sachs, which has a $64 price target on the stock, Uber should be able to achieve improving consolidated profitability over time, while also investing against long-term growth opportunities.
Bottom Line
In the post-pandemic environment, Uber is in a much better position to show consistent profitability after its major diversification and cost-cutting measures. The current bearish spell offers a good opportunity to buy this stock.