The Japanese yen has been on an impressive streak but has dropped sharply on Monday. is trading at 135.83, up 1.13% on the day.
Nonfarm Payrolls Boosts U.S. Dollar
The is showing some signs of life, courtesy of Friday's US , which was stronger than expected. The economy created 263,000 jobs in November, slightly lower than the October reading of 284,000 but well above the consensus of 200,000. Wage growth also outperformed, as the reading of 5.1% y/y was up from 4.9% and beat the forecast of 4.6%. The labor market continues to show a surprising resiliency and the increase in wage growth will drive inflationary pressure.
It was less than two months ago that the ailing Japanese yen was below the 150 level and there was increasing talk of Tokyo implementing another currency intervention to save the currency. The yen has turned the tables, gaining a superb 7.4% in November and another 2% so far in December as it trades at its highest levels since mid-August.
At the same time, it's important to note that the yen's recent upswing is more a story of broad weakness on the part of the US dollar rather than newfound strength in the Japanese currency. The Bank of Japan has no plans to change its ultra-accommodative policy, which has capped rate yields and weighed heavily on the yen, which is still down by about 18% against the dollar this year. With the Fed signaling that rates could go higher than it previously anticipated, the US/Japan rate differential will continue to widen and make the yen less attractive to investors.
Japan releases Household Spending later today for October, with a consensus of 1.0%. The downturn is expected to continue, following a 2.3% gain in September and 5.1% a month earlier. This will be followed on Wednesday with GDP for Q3, with an estimate of -1.1%. The economy contracted by 1.2% in the second quarter, so another decline in growth would mean that technically the economy would be in recession. If these releases are weaker than expected, the US dollar could gain more ground.
USD/JPY Technical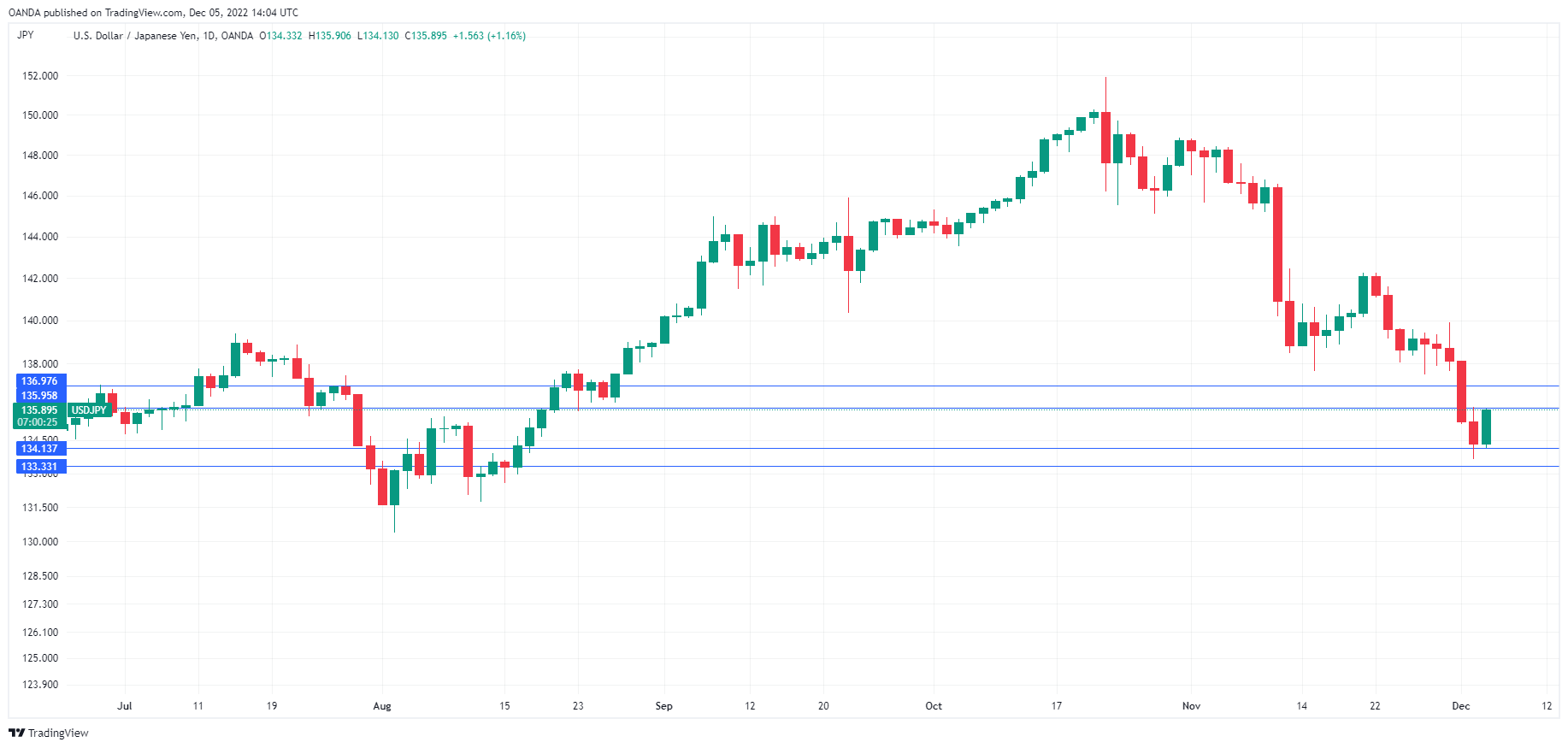 USD/JPY is putting strong pressure on resistance at 135.96. Above, there is resistance at 1.3699
There is support at 1.3412 and 1.3333