Market Indexes
It was a very rough week for the market, with all 4 indexes giving back their October gains and then some. Heavily-weighted big stocks slid on the week, pressuring indexes. Rising coronavirus cases in many US states and overseas, no stimulus bill, more corporate layoffs, and pre-election voting controversies all served to give investors the jitters this week.
No stocks rose this week, and only 6% of the rose.
"A rise in coronavirus cases in the United States, new restrictions on activity in Europe and a standoff in Washington over economic relief for struggling businesses and out-of-work Americans left investors reeling on Monday.

The S&P 500 fell more than 2.5 percent before recovering some ground in afternoon trading. The DOW lost over 2% on the day." (NY TImes)

"Wall Street's main indexes had their biggest 1-day drop since June on Wednesday, erasing October's gains, with coronavirus cases rising at an alarming rate in the United States and Europe, dashing hopes of a speedy global economic recovery." (Reuters)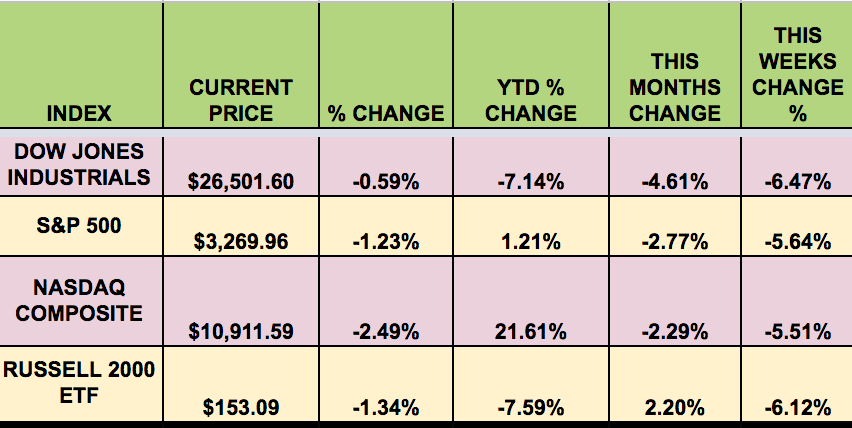 Volatility:
The rose 39% this week, ending at $38.02, its highest point since mid-June.
High Dividend Stocks:
These high dividend stocks go ex-dividend next week: BKEP, ETRN, CEQP, HTBK.
Market Breadth:
0 out of 30 DOW stocks rose this week, vs. 13 last week. Only 6% of the S&P 500 rose, vs. 52% last week.
FOREX:
The rose vs. most major foreign currencies this week, except for the .
Economic News:
"Gross domestic product grew 7.4 percent in the third quarter, the biggest since reliable statistics began after World War II. Still, the economy in the third quarter remained 3.5 percent smaller than at the end of 2019, before the pandemic began. By comparison, G.D.P. shrank 4 percent over the entire year and a half of the Great Recession a decade ago.

Economists said the third-quarter figures revealed less about the strength of the recovery than about the severity of the collapse that preceded it. G.D.P. fell 1.3 percent in the first quarter and 9 percent in the second as the pandemic forced widespread business closures. A big rebound was inevitable once the economy began to reopen. The challenge is what comes next.

"The reason we had such a big bounce is that the economy went from closed to partially open," said Michelle Meyer, head of U.S. economics at Bank of America (NYSE:). "The easy growth was exhausted, and now the hard work has to be done in terms of fully healing."

Already, there are signs that the recovery is losing steam. Industrial production fell in September and job growth has cooled, even as a growing list of major corporations have announced new rounds of large-scale layoffs and furloughs. Most economists expect the slowdown to worsen in the final three months of the year as virus cases rise and federal aid to households and businesses fades.

"We're having a record recovery, but it comes after an even more record collapse, and it looks like economic momentum is fading in the fourth quarter," said Jim O'Sullivan, chief U.S. macro strategist for TD Securities." (NY Times)

"Sales of new U.S. single-family homes unexpectedly fell in September, but the housing market remains supported by record low interest rates.

The Commerce Department said on Monday new home sales fell 3.5% to a seasonally adjusted annual rate of 959,000 units last month. August's sales pace was revised down to 994,000 units from the previously reported 1.011 million units." (Reuters)
Week Ahead Highlights:
The report for October is due out on Friday. Q3 earnings season starts to wind down, with no DJIA stocks reporting, but 22% of the S&P 500 reporting, including General Motors Company (NYSE:), PayPal Holdings (NASDAQ:) and Qualcomm (NASDAQ:).
Next Week's US Economic Reports:
Sectors:
All sectors fell this week, with Utilities holding up the best, and Consumer Discretionary & Tech lagging. However, those 2 sectors still lead all others year to date by a wide margin.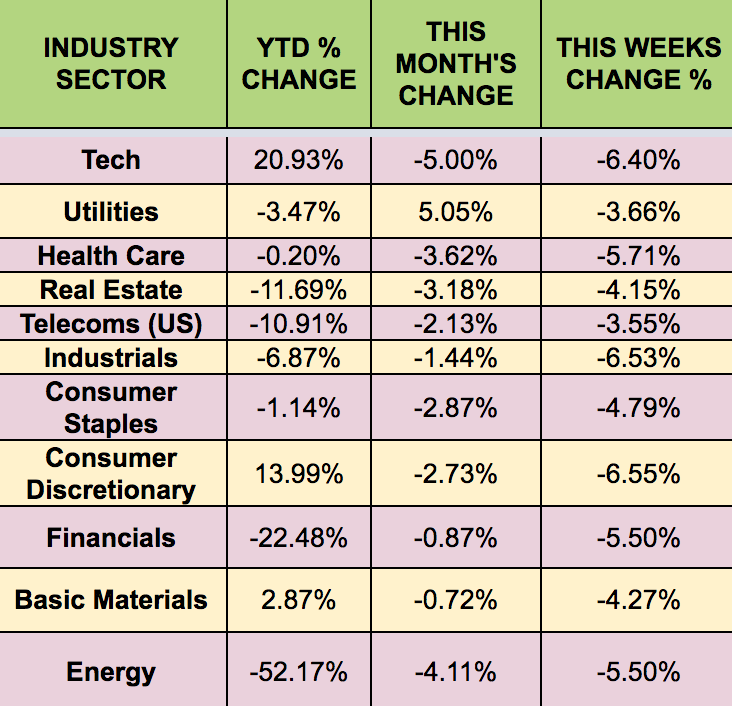 Futures:
WTI rose at the start of the week, but ultimately ended up lower for the week, down -10.2% this week, finishing at $35.72.
"Oil futures settled higher Monday, as Tropical Storm Zeta already disrupted half of the energy production in the Gulf of Mexico ahead of its arrival on the Gulf Coast later this week." (MarketWatch)