Earnings could be catalyst in data sparse week
Still, so far, solid earnings couldn't spare a weekly selloff on economic, sentiment data
Investors seem to have shifted focus from relying on the Fed to the real economy
Despite solid results last week as earnings season ramped up, investors have been shifting their focus to data releases, with a variety of economy-related prints indicating less than smooth sailing.
Though corporate earnings are likely to be the primary market catalyst in the upcoming week, as trading ended on Friday, Treasury yields were plunging, indicating that even the Fed's assurances that its dovish policy will remain in place didn't seem to calm worried investors.
Indeed, though corporate results thus far have been strong, tumbling yields clearly signal fearful investors are padding their portfolios with Treasuries, which rose for a third straight week. Defensive stocks were also seeing an uptrend. 
Inflation Fears Continue Pressuring Equities
On Friday, all four major US indices—the , , and —sold off on fears that spiking will disrupt the recovery, halting a trifecta of weekly gains. Even a solid showing in —the flipside of accelerating inflation—didn't assuage concerns.
So much so that though investors initially drove stocks higher on Friday, after the release of the University of Michigan's  plunged to 80.8 from 85.5 a month earlier, disappointing all estimates, market conviction reversed.
The S&P 500 dropped -0.75%. The view that the economy will not expand as quickly as had been hoped triggered demand for defensive stocks. ,  and  finished in the green, while sectors reliant upon growth led the declines.  underperformed, (-2.8%), on the view that OPEC+ members will patch things up and increase supplies.
But cyclicals were out of favor even without any extenuating circumstances.  dipped 1.5%,  slumped 1.4% and  retreated 0.9%. The growth sectors that saw the biggest benefits during lockdowns also retreated. was down 1% and  lost 0.6%, notwithstanding the rapid and of COVID cases across the US linked to the highly contagious Delta variant.
On a weekly basis, the S&P 500 Index retreated by 1% after Monday's fresh all-time high. Also, from a weekly perspective, growth beat value sectors. Again, Energy led among the decliners, with a 7.9% loss, followed by a 2.3% selloff for Materials. Financials declined 1.6% and Industrials 1.5%.
On the other hand, Communication Services lost less than 1% and Technology shed just 0.6%. We see the same pattern in the monthly, tri-monthly, and six-month views. Only in the YTD timeframe does the reflation trade lead.
The index that's the poster child for the Reflation Trade, the Russell 2000, underperformed among benchmarks on Friday. It was down 1.3%.
The small-cap index also took a hit on a weekly basis, losing 5.1% of value—its worst weekly selloff since October. The losses were almost five times that of the , representing the tech mega-caps which were the pandemic darlings. The tech-heavy index was down only 1.07% over the same timeframe.
So, what's up this market? Could it perhaps be a shift in investor focus, or simply a continuation of the seesawing sentiment investors have lately been riding on?
Tuesday's print, which showed a monthly increase of 0.9%, was the largest jump in this metric since 2008, topping all forecasts. It points to higher costs associated with the reopening from the pandemic.
Despite soaring inflation, Federal Reserve Chair Jerome Powell said the economic recovery right now does not justify removing accommodation. As far as memory recollects, when the economy has been doing poorly, forcing the Fed to maintain stimulus, stocks have almost always jumped. This was the first time we can remember that investors responded to the figures associated with the actual economy.
Adding to our puzzled reaction, Friday's disappointing sentiment read used to boost stocks whenever there was concern the Fed was considering tightening fiscal policy. Even strong corporate earnings followed by strong retail data didn't seem to be enough. Is what's going on now about profit-taking or possibly something worse?
From a technical perspective, the NASDAQ is showing signs of a correction within an uptrend.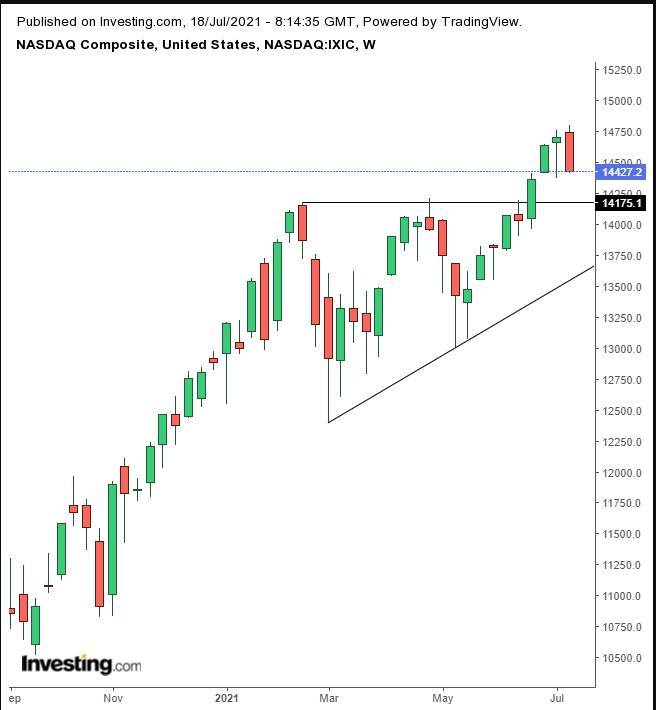 The tech-heavy index completed an Evening Star, whose bearish indicator is that the price will retest the bullish ascending triangle below.
On the other hand, small caps appear to be topping out.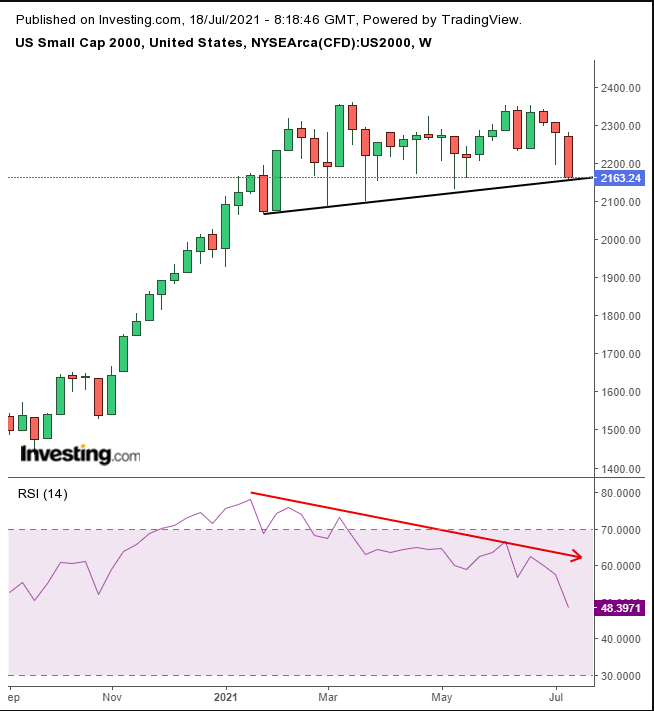 The Russell 2000 is on the verge of completing a top, which the RSI has foretold, with a negative divergence.
Yields on the US Treasury note closed Friday at 1.3%, nearing their lowest level since February, a clear sign that investors are becoming cautious.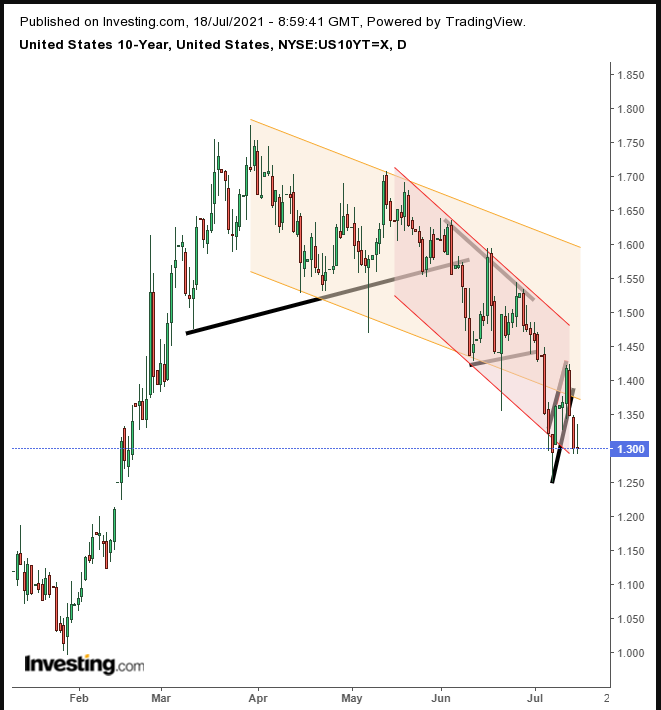 Yields complete a rising flag, suggesting another leg lower, the third bearish pattern as the downtrend steepens.
The climbed for a second day on Friday, nearing its highest point since April. fell.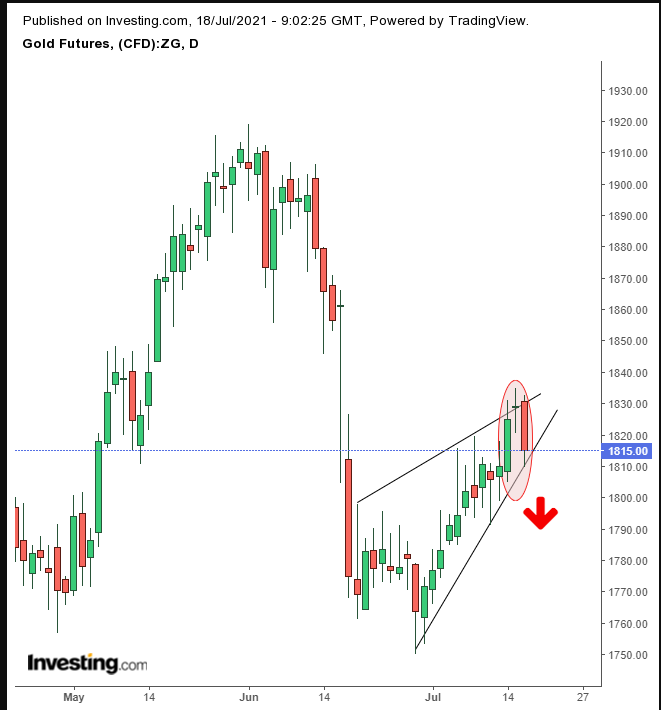 On Friday, the yellow metal completed an Evening Star, suggesting the rising wedge will finally complete.
pared gains, and is now testing the lowest levels since January.
registered its steepest weekly decline in months on the outlook of rising supply as OPEC+ neared an agreement.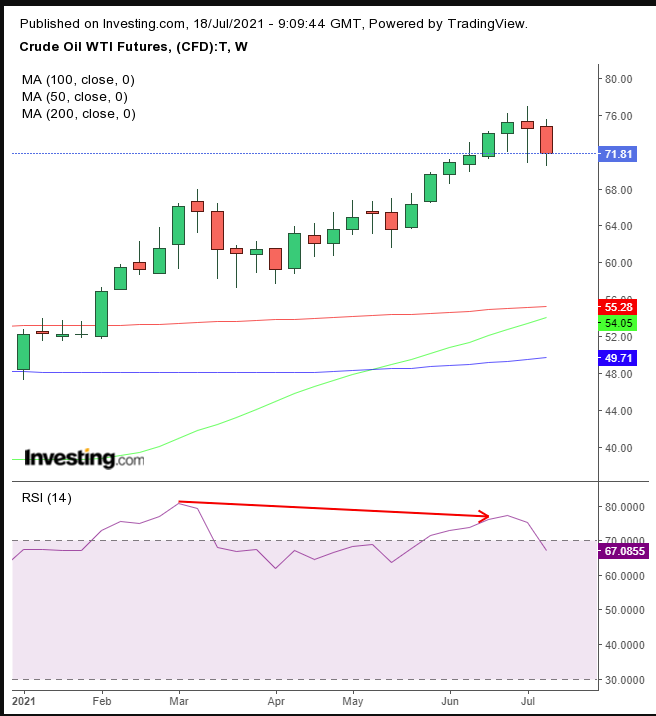 WTI managed to edge higher on Friday but still suffered a 3.7% decline for the week, its worst performance since March. This was also the commodity's first back-to-back weekly selloff since March. The RSI provided a negative divergence, peaking out below March highs, while the price shot up 13%. Will the 50 DMA find resistance below the 200 DMA, a bearish indicator, or will it climb above it, triggering a Golden Cross?
In the , companies releasing earnings results include airlines, railroads and retail stocks such as Johnson & Johnson (NYSE:), Netflix (NASDAQ:), International Business Machines (NYSE:) and Coca-Cola (NYSE:).
The Week Ahead
all times listed are EDT
Monday
21:30: Australia –
Tuesday
8:30: US – : expected to rise to 1.700M from 1.683M.
Wednesday
10:30: US –: anticipated to surge to -4.359M from -7.897M.
Thursday
7:45: Eurozone – : forecast to remain steady at 0.00%
8:30: Eurozone –
10:00: US – : expected to rise to 5.90M from 5.80M.
Friday
2:00: UK – : to jump to 0.5% from -1.4%.
3:30: Germany – : predicted to edge down to 64.1 from 65.1.
4:30: UK – : to drop to 62.9 from 63.7.
4:30: UK – : expected to slip to 62.0 from 62.4.
6:30: Russia – : forecast to rise to 6.00% from 5.50%.
8:30: Canada – : seen to jump to -2.0% from -7.2%.