In the previous analyses, I've elaborated why will reach $13,800 this year and why this resistance level is of great importance. As Bitcoin now has reached this significant price level, Bitcoin is at a make or breakpoint. 
BTC/USD DAILY CHART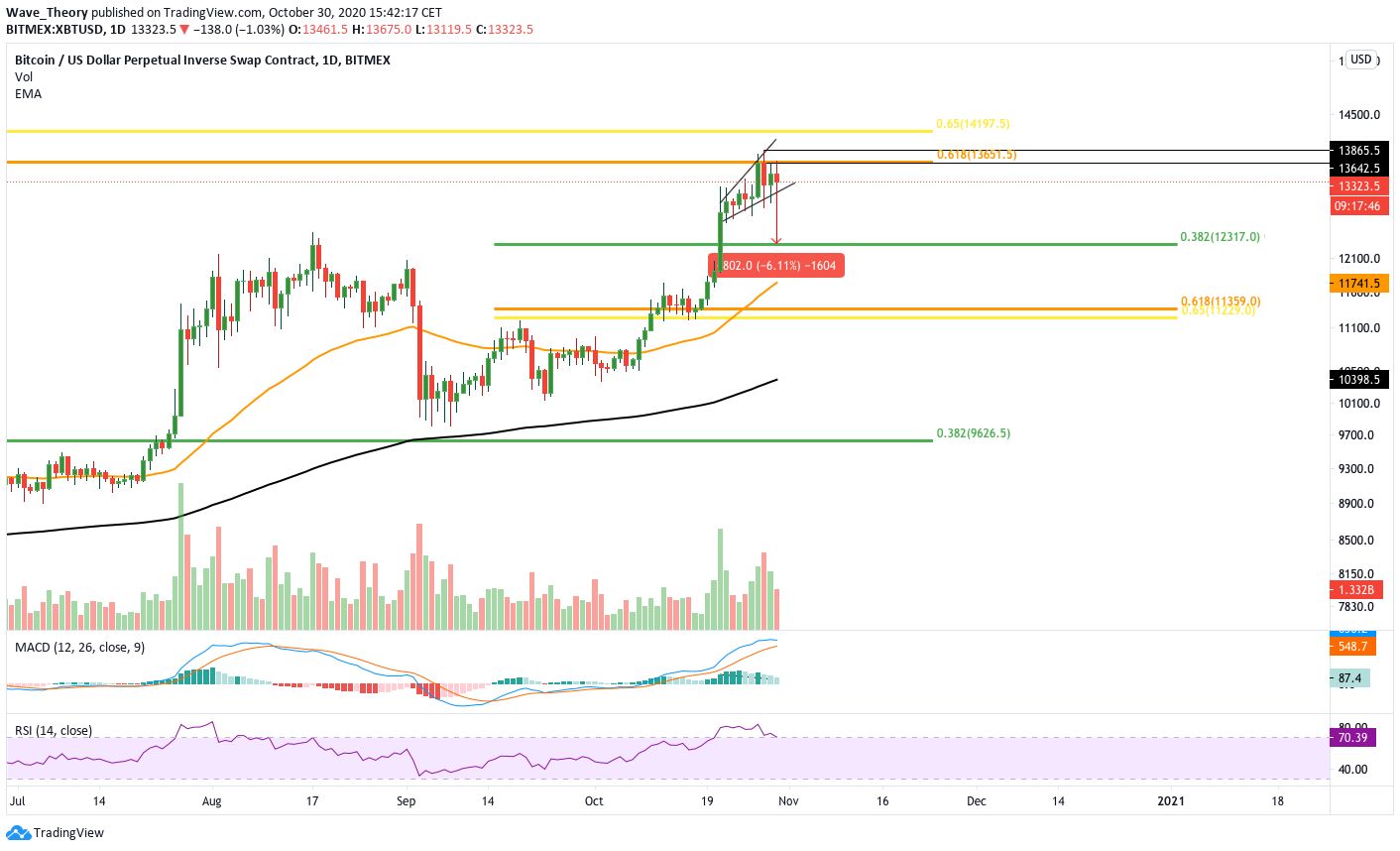 In early January I talked about Bitcoin () reaching $13,800 in 2020, and a few days ago it reached $13,865. Currently, it seems like Bitcoin might retrace very soon, as a bearish wedge is arising. If Bitcoin breaks out bearishly, Bitcoin could retrace down to the 0,382 fib support at ±$12,300, which implies a retracement of 6%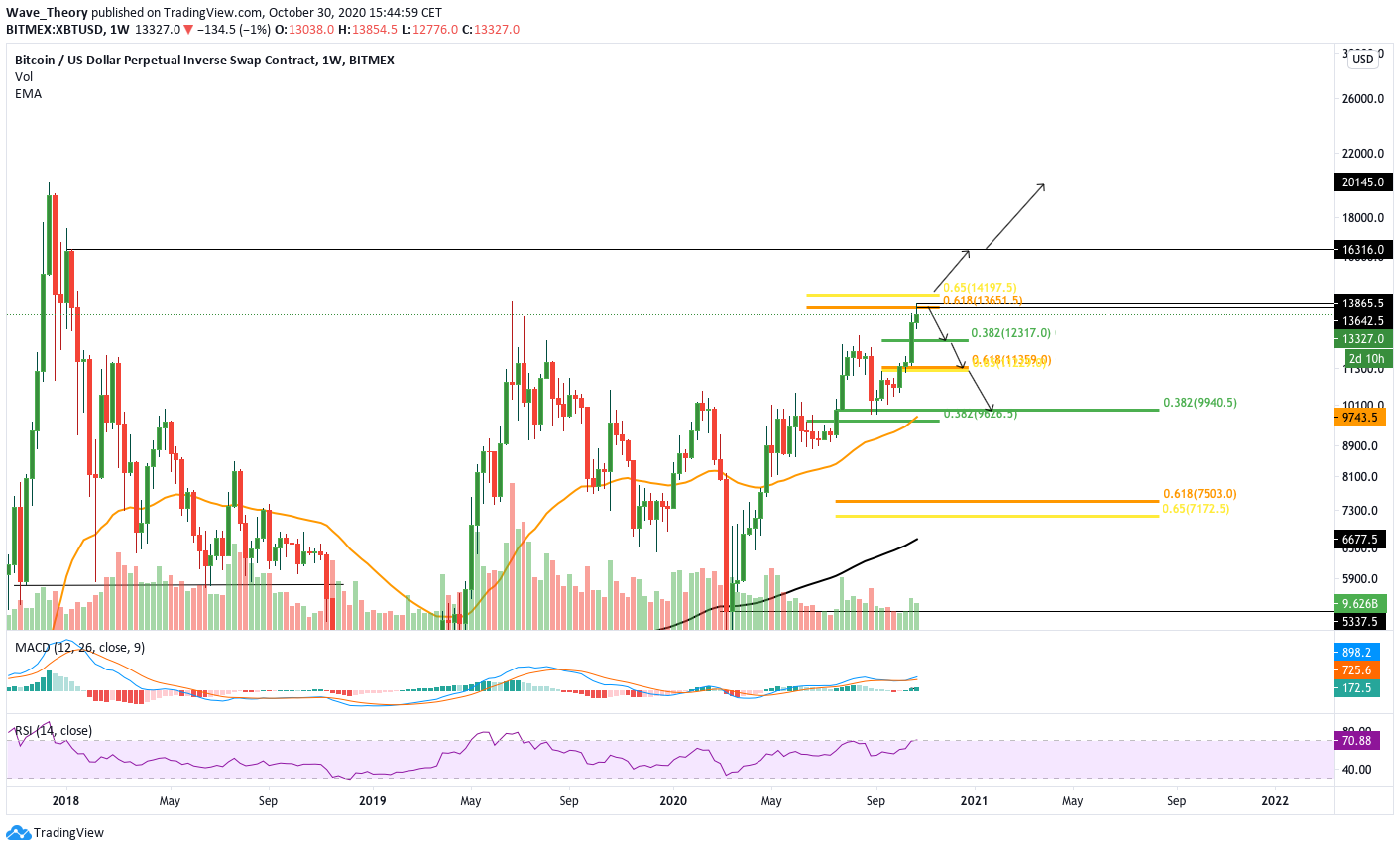 BTC/USD WEEKLY CHART
However, should Bitcoin break the golden ratio at $13,800 bullishly Bitcoin could reach previous highs, ranging from $16,000 to $20,000. A break of this important golden ratio resistance would indeed be very bullish and act as confirmation of an upcoming rally. Once this important level is bullishly broken, Bitcoin could even surpass its ATH at $20,000. But in case of Bitcoin being bearishly rejected, it finds its next significant support levels at the Fibonacci levels at $12,300, $11,350, and $10,000. At one of these levels, Bitcoin should be able to heavily bounce off towards the upside. In a very bearish scenario, Bitcoin could even reach as low as the golden ratio support at $7,500 $ with a wick to $6,677 to the 200-day-ema.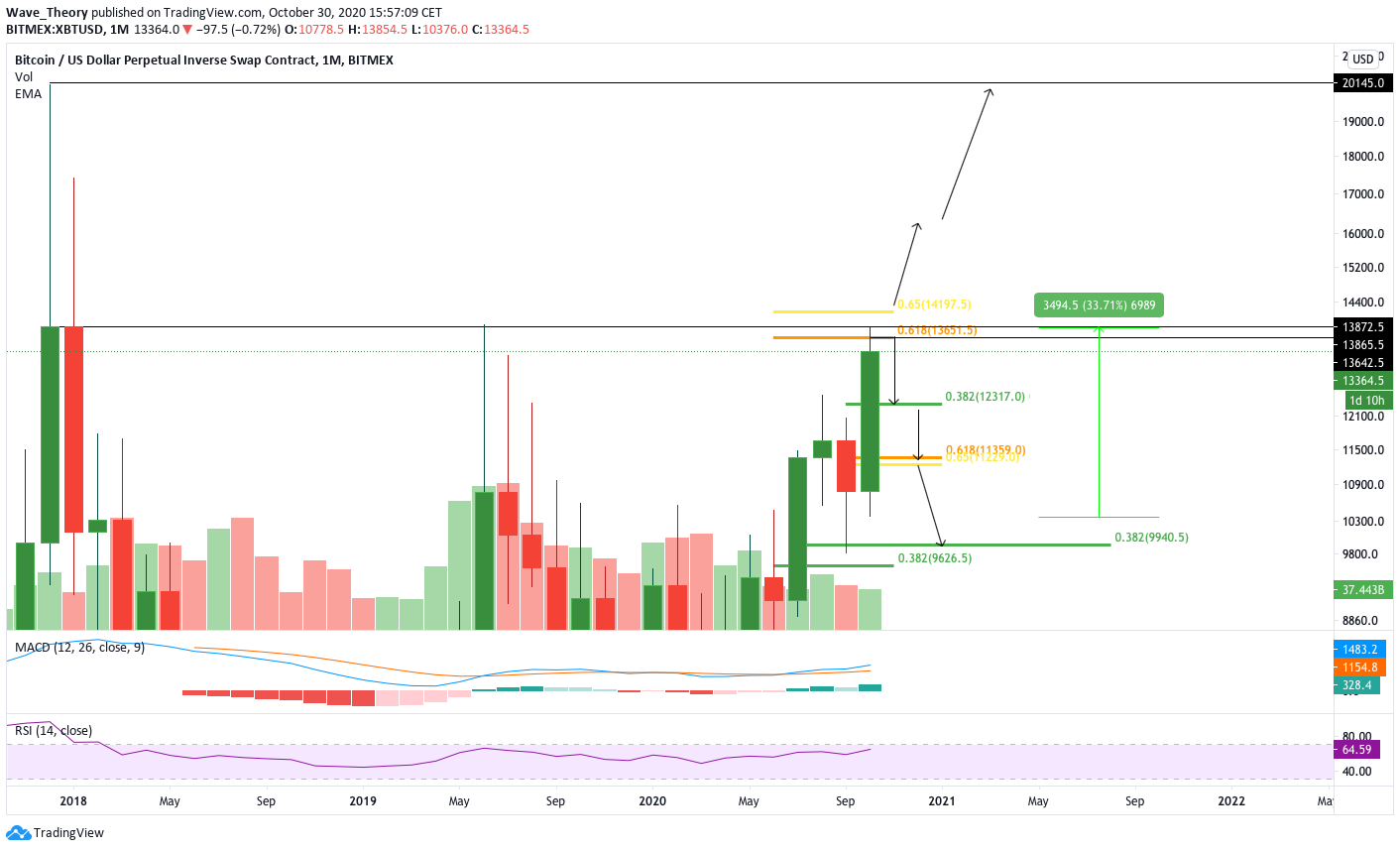 BTC/USD MONTHLY CHART
Nevertheless, Bitcoin is still very bullish mid-term. Of course, it needs to be observed if Bitcoin breaks the golden ratio at $13,800 to see which route Bitcoin follows. This month was incredibly bullish for Bitcoin; more than a 33% increase in price was established in October. In the optimal bull case, Bitcoin should close its monthly candle above $13,872.5. It would result in Bitcoin forming the most bullish monthly candle in the history of Bitcoin.   
For now, the outlook on the price of Bitcoin looks very promising in the next few years. In addition, recent developments of automatization using artificial intelligence shelter the potential to tremendously change the current state of the art in technical analysis and trading. Though AI algorithms can handle high-volume trading and are capable of offsetting human biases, there are various ways they may negatively impact traders and financial markets as a whole," says Renato Barba, COO of MachinaTrader. "While we recognize many of the potential risks now, the true extent of how AI can alter the ethical landscape of financial trading can only be seen once the technology has become ubiquitous. This is why we should be cognizant of these matters as to not fall victim to our own negligence," he added.